This past weekend I had a houseful of out-of-town family in the for the entire weekend. And for us, in the winter, that means lots of cooking and experimenting with new recipes. All of us, from the youngest to the oldest, are very comfortable in the kitchen–mixing, adding a little of this or a little of that.
We had lots of food stuff planned for the evening munching, so we started out Saturday morning with a huge pan (3 pounds of sausage worth!) of Suzanne's Biscuits and Gravy with Quick Mix Biscuits.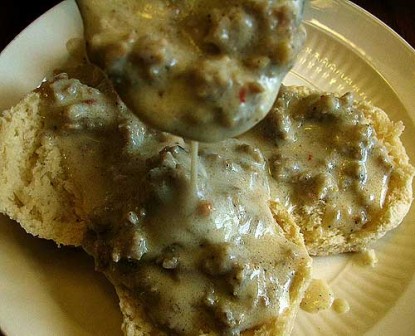 I found Half & Half (if you have extra hanging around) works wonderfully to make some nice thick, creamy gravy without having to use as much flour.
Then we started fixing food! We planned all sorts of dips that we've never had before (and some we had) and all sorts of easy fixings. All of us did something–from cutting up veggies to mixing cream cheese with something to browning burger.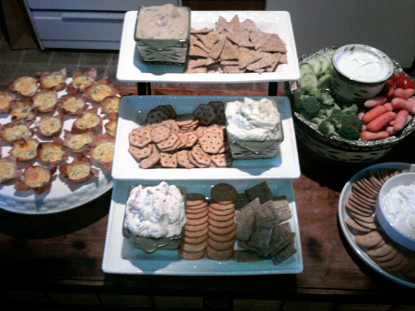 A variety of crackers started our munching menu off–Triscuit Cracked Pepper & Olive Oil, Tricuit Thin Crisps Quattro Formaggio, Triscuit Thin Crisps Original, Wheat Thin Garden Vegetable, and some Ritz. I think I need to learn how to make Triscuits!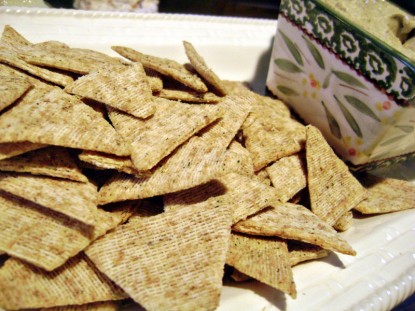 One of the new dips for us was Beecie's Quick Avocado Dip, minus the Tabasco sauce. Yummy!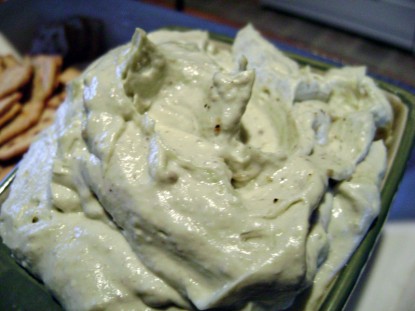 Mafong's Hummus was a starting point for ours.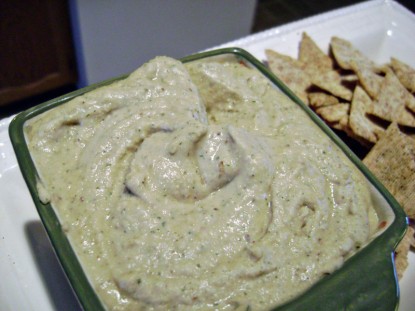 I could not find Tahini in this little town and I have no idea what it is (well, the recipe does say sesame seed paste, but that's as much as I know) or what it does for a dish, so I added a bit more garlic and lemon juice and threw some oregano in, too, for another flavor. I really liked this much better than what I've ever found in the deli department!
We also made a Smoked Salmon Dip from salmon my nephew had caught last fall while up here on a fishing weekend. He smoked it at home before coming up.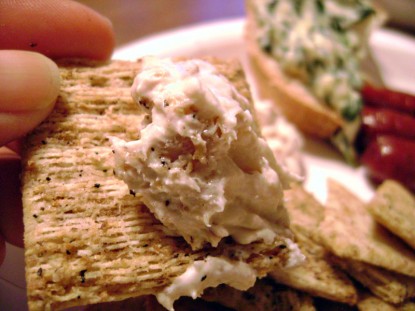 I mixed about 3 cups of smoked salmon with a pound of cream cheese and a cup of sour cream. Delicious!
For some reason, I've had a box of Brown Sugar Cinnamon Ritz crackers in the pantry for a couple months–must have been a Christmas purchase–so I needed something to go with these. Fruit Dip!
Some cream cheese and yogurt with Caramel Apple Jam did just the trick to match up with the cinnamon and brown sugar on those crackers!
We even had a healthy veggie tray with Ranch Dip.
We call it Brown Bear Dip–a great restaurant in this area that has always had the best ranch dip–but now it's made at home!
My niece is on her own now and getting interested in cooking. For Christmas she got a cookbook–500 Fast & Fabulous 5-Star 5-Ingredient Recipes. She pulled Hot Chile Cups out of it to make.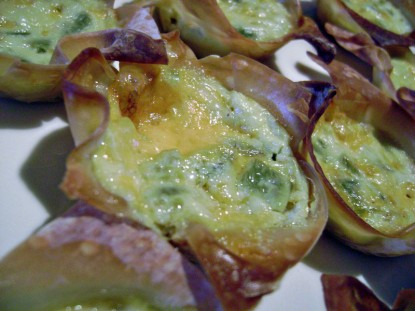 We used wonton wrappers instead of the flaky biscuit. She did good–they were wonderful!
That was all set up on the island! Onto the rinse-tub counter….
Chili–just a basic burger, home-canned Rotel tomatoes, home-canned tomato juice, onions, home-canned chili beans (canned beans with Chili Gravy) and some seasonings recipe.
Topped with tortilla chips, shredded cheese and sour cream.
Some sloppy joes kept in the crock pot with buns,
and some Lil' Smokies Cocktails, too.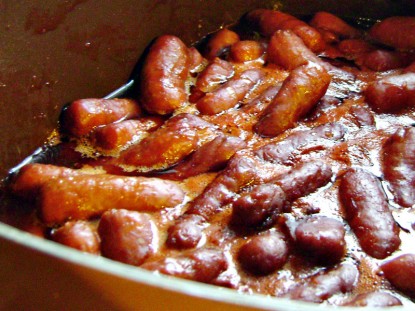 My older brother has always made Rotel Cheese Dip–we just call it John's Dip.
Sausage from our pig in the freezer, home-canned Rotels, and some homemade Velveeta–can't get any more preservative free!
I don't think I will ever serve appetizers again without including Charley's Hot Artichoke Dip with Spinach.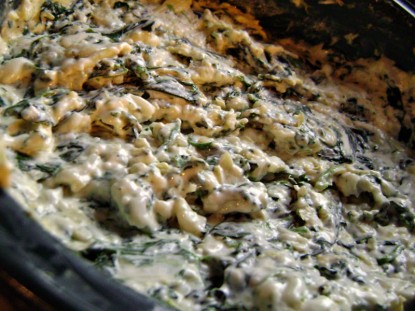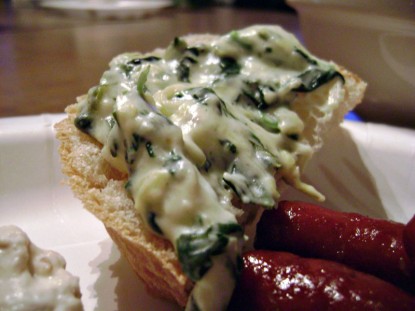 All of this gooey, melty goodness was served with French Bread. I do mine in the crock pot and just keep it on "serve" to keep warm. You have got to try this!
To top all of this food off, my other niece made a Pineapple Cake. This isn't like any pineapple cake I've ever had. Super moist, whip cream, pineapple chunks, mandarin orange chunks….oh! my!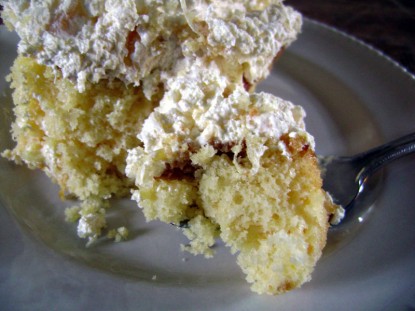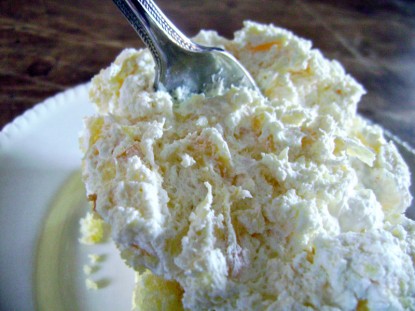 There is nothing better than spending your weekend with brothers and nieces and nephews and your mom–except fixing and eating all that home-cooked food together!



Cindy blogs at Chippewa Creek ~ Our Life Simplified.

Do you have a recipe post or kitchen-related story to share on the Farm Bell blog?
Read information here for Farm Bell blog submissions.

Want to subscribe to the Farm Bell blog? Go here.