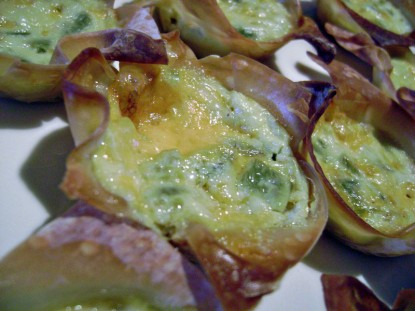 Difficulty: Easy
Servings: 24
Prep Time:
10 min
Cook Time:
20 min
Ingredients
2 eggs
1/2 c. milk
1 c shredded cheese
4 oz can chopped chiles
8 count flaky biscuits
Directions
Divide each biscuit into 3rds. Place a flake of biscuit in each of the mini muffin cups (24 cup pan).
Mix filling ingredients together. Fill muffin cup.
Bake at 375 for 20 min.
**We used WonTon Wrappers instead of biscuits.
Categories: Appetizers & Snacks
Submitted by: cindyp on March 11, 2011