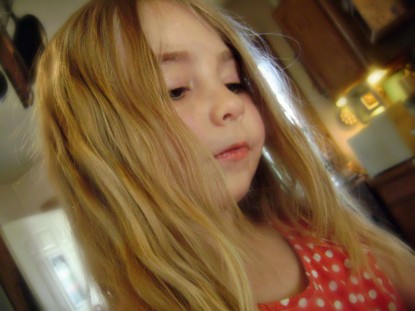 Usually the first thing out of Miss C's (our 5 year old granddaughter) mouth when she walks in for a day with us is "Nana, what can we cook today?"
The memories of my Grandma (I only had one – my mother's mother had passed many years before I was born) are very few. We lived 300 miles from her, so visits were few and far between and she passed away when I was 12. But the pictures I do have in my memory are of a stout woman with short, curly, salt and pepper hair wearing a red and white checked apron. She always had this apron on when we walked in the backdoor to the kitchen. I don't have a memory of her not wearing this apron or not being in the kitchen.
Ok, I don't wear an apron and I don't have short, curly, salt and pepper hair, but I do want the grandkids to have memories of Nana cooking with them in the kitchen, and not worrying about making a mess.
The last time Miss C came for the day, I was ready for her! Eliza J submitted Peanut Butter Candy a couple months ago. This recipe was from her young son's school activity (about 30 years ago)…and is written in his printing.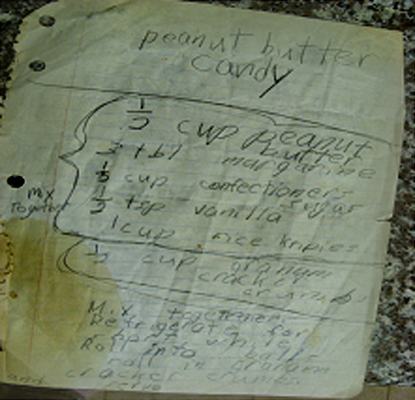 This is a simple kid friendly recipe with ingredients I always have on hand – perfect for Miss C!
We gathered all of the ingredients,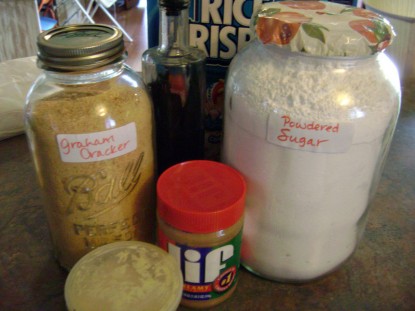 started measuring,
and sometimes tasting.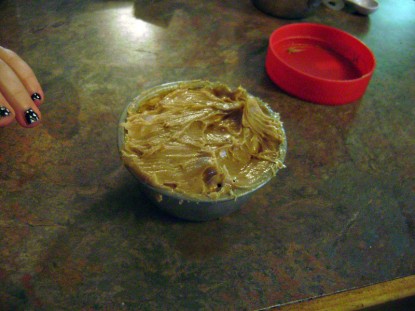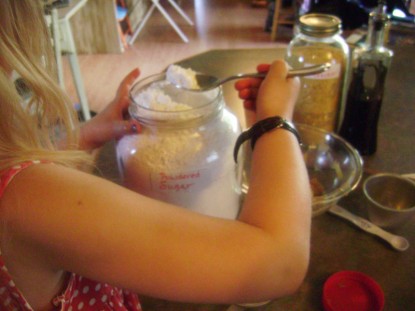 She is so meticulous with measuring. This process took about 20 minutes – 20 precious minutes making memories and chatting about world issues.
Next, we worked on mixing everything (except the graham cracker crumbs) together.
We used the mixer for this step, her "nuscles" aren't quite strong enough for the wooden spoon yet with all that peanut butter. We're still working on the concept of keeping the mixer straight up and down, though, Rice Krispies were flying everywhere! Nana doesn't mind, neither does she really, it all cleans up!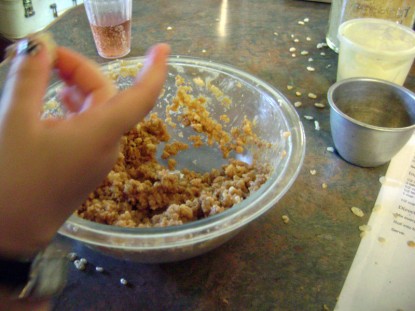 While it was sitting in the fridge to cool a while, we took a stroll outside to look at the flowers she'd helped me plant earlier in the spring,
with Miss C in her shoes of choice for the day. She thinks she's 15, not 5.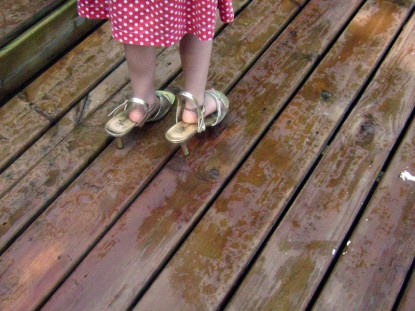 After about an hour of walking through the yard in heels and across the deck – yes, she walked sideways, foot over foot, so her heels wouldn't get stuck in the deck cracks – we finally got back to making the Peanut Butter Candy. An hour of chilling does not hurt this recipe at all!
Roll the "dough" into balls, then into the graham cracker crumbs.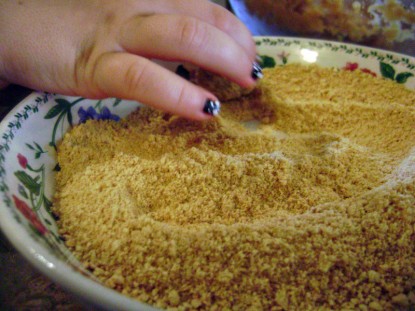 Being very precise, set them onto a plate, creating a "pattern" (she learned this in preschool this year). Make sure you count them as you go! And that meant starting from 1 after every new ball was rolled, we're still working on short term memory!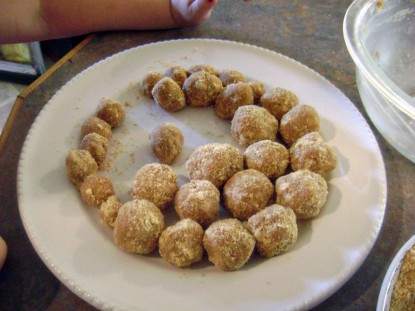 This Nana is making sure many memories are made with her grandchildren in the kitchen as they're growing up. What Miss C learns about cooking and baking will come from me — her Mom, Grandma, and Mimi don't cook. That's fine, I will be honored to be part of those memories.
From little Miss C to you!
She was very excited to know her cooking would be on
The Chicken Site!
Get the handy print page for the Peanut Butter Candy recipe and save it to your recipe box.

You can also find Cindy at
Chippewa Creek ~ Our Life Simplified.

Interested in contributing a guest post to the Farm Bell blog? Read information here for Farm Bell blog submissions.

Want to subscribe to the Farm Bell blog? Go here.