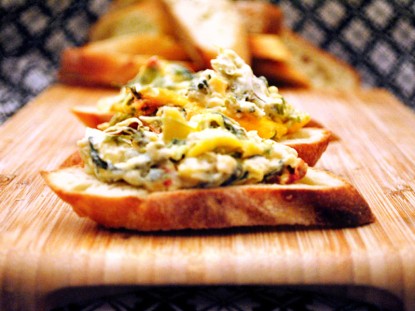 Difficulty: Easy
Prep Time:
10 min
Cook Time:
30 min
Ingredients
1 (8 oz) package cream cheese, softened
1/4 cup mayonnaise
1/4 cup Parmesan cheese
1/4 cup Romano cheese
2 cloves garlic, peeled and minced
salt and pepper to taste
1 (14 oz) can artichoke hearts, chopped and drained
1/2 cup frozen spinach, defrosted and drained well
1/2 cup shredded mozzarella cheese
Directions
Pre-heat your oven to 350 degrees; grease a small baking dish. Mix everything but the artichoke, spinach and mozzarella cheese together. Gently fold in the artichokes and spinach. Spread into a the baking dish, top with mozzarella and bake until hot and bubbly, it usually takes about 30 minutes.
Categories: Appetizers & Snacks, Dips
Submitted by: charleycooke on December 29, 2010