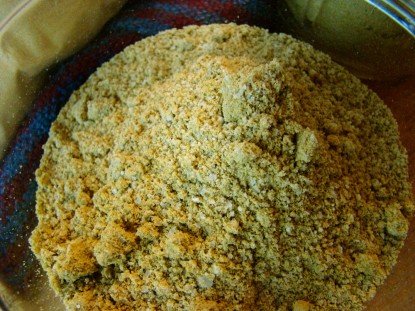 The other day I posted a recipe for Easy Herbs for Chicken. Here is another meat rub that we love, and that we use a lot.
This is my very favorite way to fix pork shoulder chops or even a larger pork roast. As I did with the Chicken Rub recipe, I've given you a single use version and a bulk version.
How to make Pork Rub: Printable
Single use:
2 teaspoons salt
1 Tablespoon mustard powder
2 teaspoons rosemary powder
Bulk:
1 1/2 cups salt
2 cups mustard powder
1 1/2 cups rosemary powder
Stir it up well and rub it on the meat before you cook it. Don't worry too much about the proportions. It'll taste great!

Enjoy!
P.S. Don't freak out about the mustard thing. It won't taste like you poured French's yellow all over it. Trust me! It's not really spicy at all. Try it once before you pass judgement.
Tell us what other herbs you use on pork!


Robin from Rurification blogs at Rurification.

Do you have a recipe post or kitchen-related story to share on the Farm Bell blog?
See Farm Bell Blog Submissions for information, the latest blog contributor giveaway, and to submit a post.

Want to subscribe to the Farm Bell blog? Go here.
What can you enter to win this month? Click here.