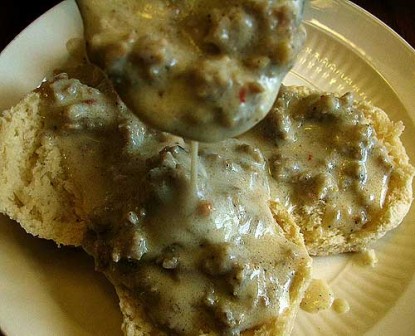 Difficulty: Easy
Servings: varies
Prep Time:
5 minutes
Cook Time:
20 minutes
Ingredients
1 pound ground sausage
3 tablespoons all-purpose flour
1 teaspoon garlic powder
3 cups milk
salt and pepper to taste
Directions
Cook the sausage in a large skillet till done. Sausage is my next favorite thing to bacon.
Drain sausage. (What? Did you think I wouldn't do that? I'm not trying to kill you! Well, you can leave a little bit of drippings in the pan for extra flavor. I do.)
Stir in the flour and garlic powder; add milk gradually, cooking and stirring over medium heat.
When the gravy thickens, turn off the heat and add salt and pepper to taste. I don't actually add salt because sausage is salty enough for me as it is. You do what you want. I won't tell. I like to use fresh-ground pepper and lots of it!
By now, you've got big, fluffy biscuits coming out of the oven.
You might need to eat one of those suckers right away, with some butter, to test them before you let anybody else have them with the gravy. We wouldn't want anyone getting a bad biscuit. And they are awfully good right out of the oven.
Split biscuits and pour on the gravy.
Categories: Biscuits, Breads, Breakfast, Other Breakfast
Submitted by: suzanne-mcminn on July 23, 2010