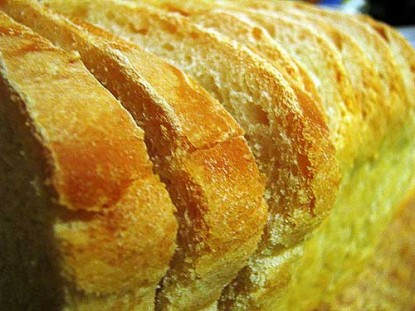 Difficulty: Easy
Servings: 1 or 2 loaves
Cook Time:
25 min
Ingredients
Two-loaf standard recipe
3 cups warm water
1 tablespoon yeast (1 packet)
1 teaspoon salt
1/4 cup sugar
7 cups all-purpose flour
One-loaf standard recipe
1 1/2 cups warm water
1 teaspoon yeast
1/2 teaspoon salt
2 tablespoons sugar
3 1/2 cups flour
Directions
See step by step instructions on How to Make Bread
In a large bowl, combine water, yeast, sugar, and salt. Let sit five minutes.
Stir in first three cups of flour with a heavy spoon. Add the next cup of flour a little at a time as needed, stirring until dough becomes too stiff to continue stirring easily. Add a little more flour and begin kneading. The amount of flour is approximate–your mileage may vary! Continue adding flour and kneading until the dough is smooth and elastic.
Let dough rise in a greased, covered bowl until doubled. (Usually, about an hour.) Uncover bowl; sprinkle in a little more flour and knead again before dividing in half. With floured hands, shape dough into loaves and place in two greased loaf pans. Tear off two pieces of waxed paper and grease with oil spray (to prevent it from sticking to the loaves as they rise) and cover loaf pans. Let rise till loaves are tall and beautiful! (About an hour, depending on the temperature in your kitchen.)
Bake for 25 minutes in a preheated 350-degree oven.
***See the Grandmother Bread Cookbook page for more recipes, ideas, and tips about using this versatile dough.
Categories: Breads, Old-Fashioned, Rolls, Yeast Breads
Submitted by: suzanne-mcminn on June 6, 2010