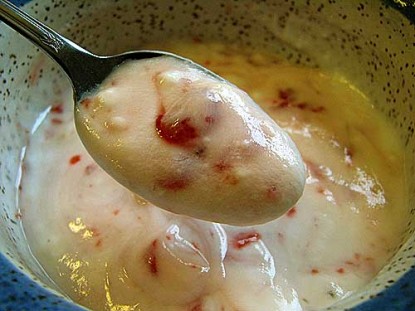 Difficulty: Easy
Servings: 5 cups
Prep Time:
6-7 hours of sitting time
Cook Time:
3 hours in crockpot
Ingredients
1/2 gal milk (you can use fresh or from the store)
1 cup plain yogurt
Directions
Put the milk in the crock-pot and turn on high until it's almost boiling, but not quite. The instructions said about 3 hours, mine took 2. Shut off and let cool off until you can hold your finger in for 10 seconds. Mix in the plain yogurt. Put the top back on, leave the crock in the heating part, put a bath towel on the top to insulate and leave in a draft free area where it will cool down slowly. I stuck mine in the oven. Leave it for 6-7 hours cooling slowly. Mine was in there until this morning, about 12 hours, it was still a little warm.
This made 5 cups. You can now use 1 cup of this to make your next batch.
Categories: Crock Pot, Other Dairy
Submitted by: cindyp on April 21, 2010