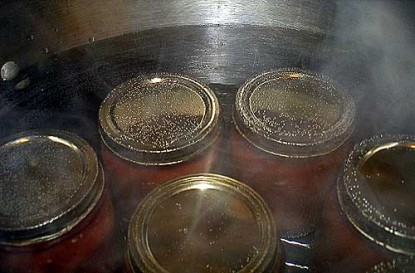 Difficulty: Intermediate
Servings: 22 pints!
Ingredients
8 quarts peeled tomatoes in petite dice (measure after dicing) – about 25 lbs. tomatoes
4 ounces diced green chilies (canned)
2 cups diced bell pepper (I used orange/red)
¾ cup finely diced jalapeno peppers (approx. 3 huge or 6 regular – used a food processor)
1 cup sliced green onion (including some green tops)
1 Tbsp. granulated garlic
2 Tbsp. salt
¼ cup lime juice
1 cup lemon juice
¾ cup sugar
2 Tbsp. calcium chloride (to firm tomato pieces)
~optional but worth it!
Directions
Mix all together. Bring to a boil. Reduce heat to simmer. Ladle into hot pint or smaller jars. Process in boiling water bath for 40 minutes.
Categories: Boiling Water Bath, BWB Tomatoes & Combos, Canning, Fat-Free, Low-Sodium, Preserving, Vegan, Vegetarian
Submitted by: wvhomecanner on May 5, 2010