All four of my organic wines have finished making and are ready to bottle! Not only are they all four ready to bottle, they are ready to drink! I tasted them at the last racking and they were all delicious, even the dandelion and it is only about 10 months old. I can only attribute this to the new turbo yeast. It's the Lalvin E-1118 and it is the only yeast I will be using henceforth. Amazing results!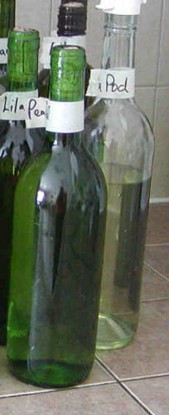 I have been drinking the pea pod wine and it has not been giving me headaches. This is great news to me! I thought I was going to be forced to give up drinking wine altogether. Not so! The pea pod wine is very good. It has a subtle pea flavor, but it is there. It's a delicate white wine.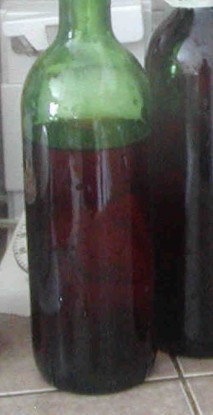 The rose is a red wine with a heady, strong rose bouquet and flavor. It has a lovely dark red color as well.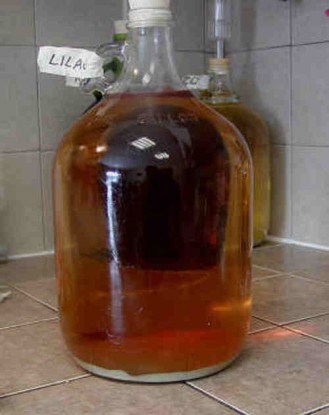 The lilac is also a white wine, delicious with a more subtle bouquet and flavor. It is (surprisingly) not at all purple. It's more of a peachy color. Odd, that. I had considered putting in a little purple food coloring, but decided against it. I want to keep these wines organic with nothing in them to give me, or anyone else, allergy problems and headaches.

The dandelion, of course, is a golden shade. It is still a bit cloudy, although delicious, so I need to clear it before I can bottle it. Even though I have an electric wine filter, for just one little gallon I am not going to use it. It's a big hassle to set it up and it will waste a set of pads for very little output. I bought a package of clarifier (called fining) and put it in the jug. It will sit for about a week and clear. There are a few different finings on the market and they change all the time. Islinglass finings used to be the norm, but now they use something better called Chitosan, made from sea shells. It will slowly sink to the bottom and take all the particles with it. I have done no research on this new stuff, but I will.
Winemaking is constantly in flux as people find better ways of doing things. I guess that can be said of anything, really. Life is in flux. Nothing ever stays the same for more than about 6 months.
This year I will be making a LOT of wine from all kinds of things! I have big plans. (I just need the time. We'll see how it goes…) Making my own wine will also save me a lot of money. I need to keep that in mind when setting my priorities. Big money savers go at the top of the list!
I started an apple wine yesterday. I am also going to start my big spring indoor planting during this time and finish a few more paintings. I'll be very busy through March, but not nearly as busy as I will be when the ground thaws! I am trying to get all of this other stuff out of the way before then.

The biggest job in the entire wine making process is the washing, sterilizing and de-labeling of the bottles, or so I think. This is a personal opinion, of course. Other winemakers might have a different opinion about the various parts of the process. Of course, you don't need to use all 750 ml bottles. You can put it in magnum (1.5 ltr) bottles and have less prep work to do. I bottled it all in 750ml bottles this time because that size makes a good gift. I don't have a tree for washing the bottles. I should probably look at getting one of those at some point. While my wine is organic and has no sulfite in it, I do use sulfite to sterilize all the equipment. None of it makes its way into the wine!

I think my organic winemaking for this year was a great success! No failed batches. I have a long list of things to make wine from this year:
rhubarb – 5 gallons
strawberry – 5 gallons
raspberry
blackberry, if I can collect a gallon
mint and maybe lemon mint and chocolate mint
hibiscus
rose petal, red – again
apple – blend of types – 'Royal Gala' is my favorite apple
pumpkin (squash) and possibly pumpkin pie (with the subtle spices), maybe
gooseberry, if my bushes produce a gallon of berries this year
dandelion – again
lilac – again
red bee balm blossom
wild daylily petals (pictured)
wild rose petal, white – maybe
rose hip – maybe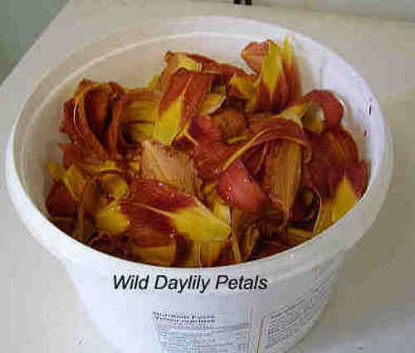 You know — I bet grapes would make a good wine. Maybe I should grow some grapes just for that purpose. Wouldn't that be different and unique!


You can download my free ebook "Making Your Own Organic Wine At Home" from my website (link below).

Sheryl – Runningtrails blogs at Providence Acres Farm.

Do you have a recipe post or kitchen-related story to share on the Farm Bell blog? Go here to read information and to submit a post to the Farm Bell blog.

Want to subscribe to the Farm Bell blog? Go here.