We use a lot of jams and jellies at my house. My guys eat it on toast and also on peanut butter and jelly sandwiches. It's good as a topping for ice cream or a glaze for cooking meats, and the flower jellies make great gifts. A basket of homemade and unusual things from the kitchen goes over very well at Christmas! Bee balm (Monarda Didima) jelly is red, of course. You can make jelly from the native purple too (Monarda Fistulosa) but the color will not be red. The color in the jars is natural. There is no food color added.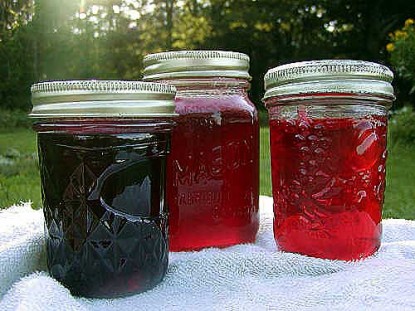 I'm hoping to make a lovely pink wine from the gallon bucket of bee balm petals I have saved in the freezer. I have a lot of the red in the garden and I like the color, so I am using that for the jelly. I do have some of the native purple, as well, but probably won't make jam from it this year.
Frozen bee balm.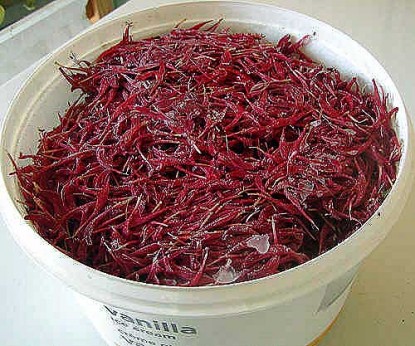 You can make jelly from almost any edible flowers. (See my list of edible flowers in Making Flower Wines.) Some of these will make good jelly and some will not. Please taste it in a tea first to see if you like it. We like bee balm.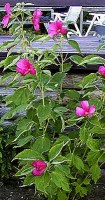 Hibiscus is another one that makes good tea, jelly and wine. Mine are in bud now. Rose petals also make good jelly if you use scissors to cut the petals off, leaving the white bottom part behind. (It's slightly bitter.) I have a gallon of wild day lily petals in the freezer for wine. I could use a few of those to make jelly too. I don't know if we like it or not. I think I'll try some wild day lily tea and see. I have some dark red day lilies blooming now in the garden I could use for jelly. That would have a beautiful color. So many possibilities! Experimenting is fun. Mint and other herb jellies are made the same way as the flower jelly. These jellies are used mostly as glazes for meat at my house. No one eats sage jelly on toast! I like the mint on ice cream, but I am the only one that eats it like that. Hubby is not too fond of mint. Apple mint jelly might be good. I wonder if hubby would know it has mint in it. I would tell him, after he ate it and said it was delicious!
How to make Flower and Herb Jellies:
2 cups flower petals (or fresh young herb leaves)
2 1/4 cups water
600 oz liquid pectin (2 packages) or equivalent powder*
4 cups sugar
*You may find that the liquid works better for this purpose than the powder.
This is the basic recipe: Same amount of water and flower/leaf material. Twice that total in sugar. One package of pectin per approximately 1 cup of water used, before adding the flower petals and sugar. You can make jelly from whatever amount you have.
Cooking bee balm.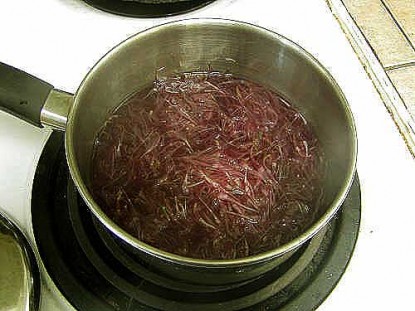 In a small glass or stainless saucepan, bring the flower petals or herb leaves in the water to a boil. Cover and set aside. Let this sit overnight or for a several hours. Strain, squeezing out all the water into the saucepan. Put the pulp into the compost. This water is called an "infusion". Bring the water to a boil and stir in the sugar until all is well dissolved.
Bee balm jelly.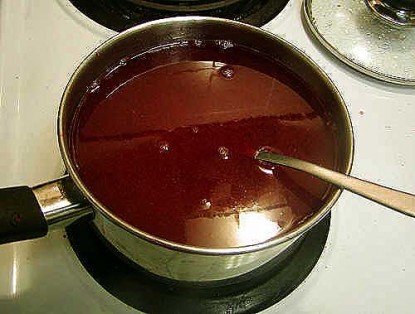 Stir in the pectin and boil hard for two minutes. Pour into hot, sterilized jelly jars. BWB 10 minutes. Store at room temperature. Refrigerate after opening.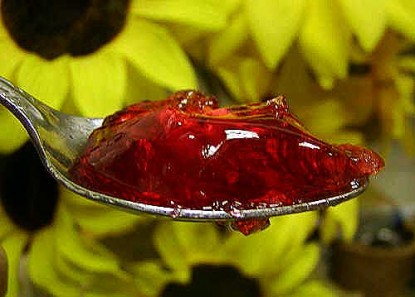 Bee balm jelly is delicious. The scent is quite strong when you open the jar. I love the smell of bee balm. I often pick a leaf in the garden just to smell it. I love to line up all the jellies I have just made, while they are cooling, and just look at them. A full larder is such a beautiful sight!
Get the handy print page and save this recipe to your recipe box:
Flower and Herb Jellies

You can also find Sheryl at Providence Acres.

Interested in contributing a guest post to the Farm Bell blog? Read information here for Farm Bell blog submissions.

Want to subscribe to the Farm Bell blog? Go here.