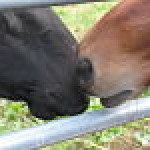 Say hello to Laura!
Q. What are your favorite things to cook?
My husband's favorites are my favorites to cook, because it makes him happy. Things like meat loaf and mashed potatoes, bean soup, stroganoff, homemade bread and pie. I also enjoy baking things for my kids and making easy meals like breakfast for dinner.
Q. How/when did you learn to cook?
I did a little bit of cooking with my mom as I was growing up, but I really learned by myself when I married and had to cook instead of getting take out like I did when I was single. It took awhile to become proficient in the kitchen. We had been married about a year when my husband gave me a huge compliment one night —"Wow darlin', you actually got all the things, the meat, vegetable, potatoes and salad all done at the same time and on the table". Let's just say time management in cooking took awhile and most nights in the early days dinner was served in courses because that was the only way to do it.
Q. Tell us about some of your cooking triumphs.
Making cheese cake and the first time I made French bread come to mind. I also felt great the first time I made a homemade butterscotch cream pie and it turned out great, even the meringue. I also thought I was pretty cool the first time I made raspberry jam by myself.
Q. What was your most memorable cooking tragedy?
I probably have tons of them, if I wanted to go into cooking therapy and find those repressed memories, but the one that sticks out is when I made no bake cookies as a young girl. Instead of putting in a third of a cup of milk I put in 3 cups of milk and it was like soup. My mom tried to help me salvage the mess, but it was just hopeless.
Q. Describe your kitchen. Do you love it, hate it, and why?
My kitchen is small and cluttered. We are in a house that I have never particularly liked, so I can't really gush on about how I love it. We are hoping to build a new house and I can share the lovely dreams I have for that if I need to.
Q. Is your pantry organized and are your kitchen drawers tidy? We need to know.
It is semi-organized. I know where things are, they are organized and kept in the same places. However, there are some areas that could use a little TLC, including my pantry area in my basement.
Q. Do you have any favorite family cooking traditions?
We have a few here at home. I like to bake with my kids, especially making bread with my oldest daughter. For birthdays I usually make the special person what they want for dinner and then we all go around the table and say what we like about the birthday person. Then the birthday person gets to decorate the top of their cake. One year my son put on so much sugar crystal sprinkles the cake loudly crunched when you ate it. Every year since, his aunt asks if the cake is crunchy. We also have traditional foods for certain times of the year like strawberry shortcake for Father's day, venison roast for Christmas day dinner, and meatball subs for Superbowl Sunday. We also do a traditional cheese, cracker and pickled bologna tray for New Year's Eve.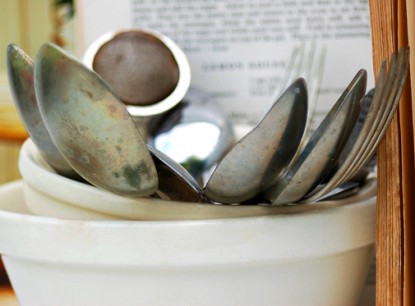 Q. What is the one gadget (or ten) you couldn't do without in your kitchen?
I need a good knife and I am good to go. I bought my favorite knife years ago for a couple of dollars and it is great. A few years ago, a friend's college aged son came over to demo some very expensive knives he was selling to make money for college. I sat through the demo and when it came time to compare my "inferior" knife to the fancy ones he was selling, mine came up just a good. I also like good paring knives and have a Rada potato peeler that I can't live without.
Q. If you had to take one food to a deserted island, what would it be?
I would probably pick pizza, because I could mix up the toppings to keep it from becoming boring.
Q. What is your go-to comfort food?
If I am sick it's oatmeal or scrambled eggs. A good cinnamon roll or some type of potato works too.


Some of Laurua's recipes on Farm Bell Recipes include:
Find all of Laura's recipes here.




Laura blogs at The Blue Zoo.

Do you have a recipe post or kitchen-related story to share on the Farm Bell blog?
See Farm Bell Blog Submissions for information and to submit a post.

Want to subscribe to the Farm Bell blog? Go here.