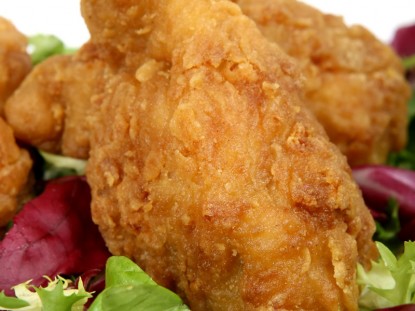 I have a weakness for Kentucky Fried Chicken. It's not one that I give into frequently though — high sodium, high fat, you know the drill. When we began our low-sodium diet a couple years ago, I found a recipe that I tweaked to taste like the Kentucky Kernel Coating. But NOW, I've found the secret for the puffy outer part that is one of things I loved about it! It even works with skinless chicken, no skin needed to get the crispy, crusty, puffy affect!
The secret? Cornstarch!
How to make KFC Style Chicken Nuggets:
4 skinned and boned chicken thighs or breasts
2 eggs
1 teaspoon cayenne pepper
2 Tablespoons Kentucky Kernel Coating Mix (or use 1 cup Kentucky Kernel Flour from the store)
1 cup flour (omit if using store bought Kentucky Kernel Flour)
1/4 cup cornstarch
Pan with 2″ oil heated to 375 degrees or use a deep fryer
Skin, bone and cut the chicken into approximately 2? pieces.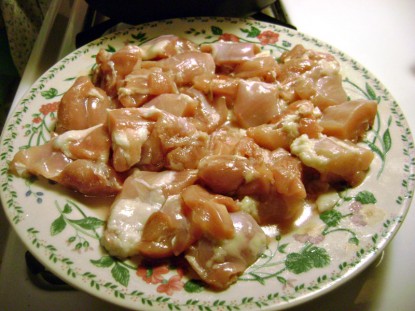 Whisk together eggs and cayenne pepper in a shallow bowl.
Mix together the Kentucky Kernel Coating mix, flour and cornstarch in a plastic bag.
Coat the chicken pieces in the egg,
then shake in the bag of flour mixture all at once.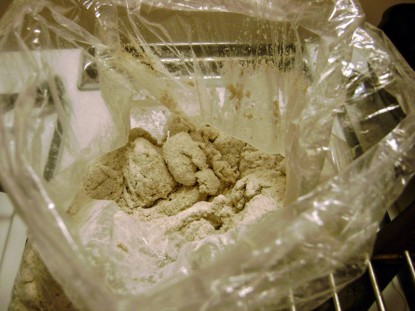 Lay pieces onto a wire rack over a pan and let rest for 10 minutes. This lets the coating soak into the chicken so you don't lose it in the oil.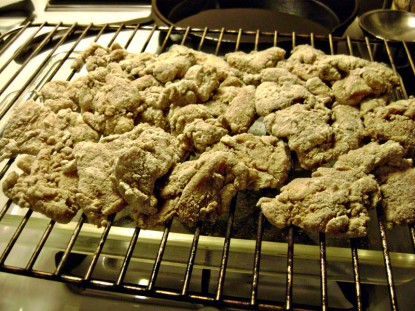 Put the chicken pieces into the oil and cook until done – the pieces will start to float – mine took about 6 minutes. I turned them over once to get an even browning.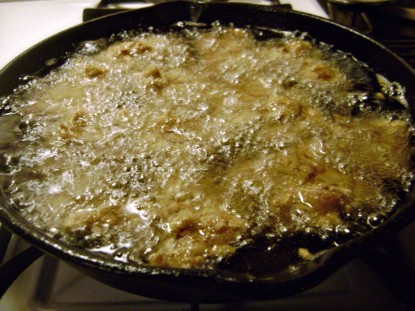 Drain onto paper towels.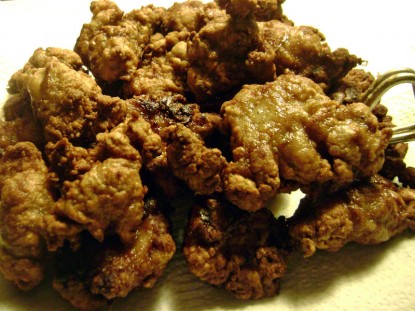 There you have it!!! Homemade Nuggets with the great taste and crispiness but not the sodium or nearly as much fat.
I have baked this. The puffiness didn't work, but the flavor is there!!
Get the handy print page and save this to your recipe box here:
Chicken Nuggets – KFC Style.
Interested in contributing a guest post to the Farm Bell blog? Read information here for Farm Bell blog submissions.

Want to subscribe to the Farm Bell blog? Go here.