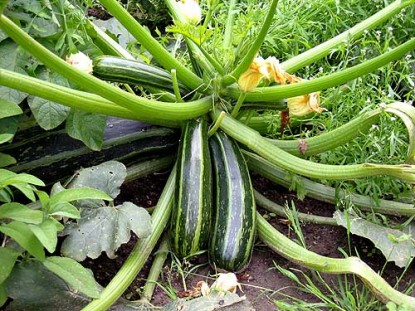 Difficulty: Easy
Servings: 4 dozen
Prep Time:
15 minutes
Cook Time:
25-30 minutes
Ingredients
3 cups thinly sliced unpared zucchini
1 cup biscuit mix
½ cup finely chopped onion
½ cup grated Parmesan cheese
2 tablespoons finely chopped parsley
½ teaspoon salt
½ teaspoon oregano
Dash of pepper
1 clove garlic, grated or finely chopped
½ cup corn or vegetable oil
4 eggs slightly beaten
Directions
Heat oven to 350-degrees. Grease 13″ x 9″ x 2″ pan. Mix all ingredients, spread in pan. Bake until golden brown, about 25-30 minutes. Cut into 1″ x 2″ pieces; makes 4 dozen.
I substitute whole-wheat flour and a teaspoon of baking powder for the biscuit mix, and you can cut down on the oil considerably with no bad effects. It's fine without the parsley; I hardly ever have any on hand.
Categories: Appetizers & Snacks
Submitted by: ldeg on September 30, 2010