We eat a lot of cookies around here so I have developed a recipe that makes them fairly healthy. Although they do contain a fair amount of sugar, it is not "empty" calories.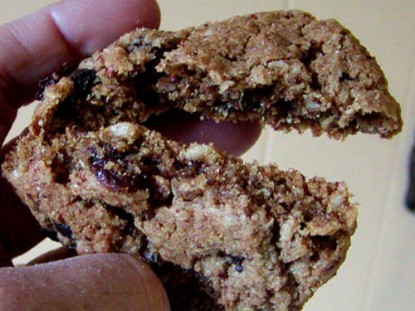 One thing I have added is Quinoa grain (pronounced "keen-wah"). Here is more info about quinoa: "The quinoa seed is high in protein, calcium and iron, a relatively good source of vitamin E and several of the B vitamins. It contains an almost perfect balance of all eight essential amino acids needed for tissue development in humans. It is exceptionally high in lysine, cystine and methionine-amino acids typically low in other grains. It is a good complement for legumes, which are often low in methionine and cystine. The protein in quinoa is considered to be a complete protein due to the presence of all 8 essential amino acids. Some types of wheat come close to matching quinoa's protein content, but grains such as barley, corn, and rice generally have less than half the protein of quinoa. Quinoa is 12% to 18% protein and four ounces a day, about 1/2-cup, will provide a childs protein needs for one day."
I chose quinoa as an additive because of the protein content. I can even eat some of these cookies, within reason, without suffering a carb "crash". I sometimes grab a couple for breakfast before heading out to the fields in the early morning when nothing else is available that is quick and ready to go, after the two cups of coffee, that is. No, I don't grow my own coffee – yet, but I might look at growing my own quinoa, maybe later. I buy it from a bin at the bulk food store. Its readily available in many grocery stores, but more costly there. I also grind it before adding it uncooked to things like cookies. I have a small coffee/spice grinder that I use for that. I love my grinder and use it to grind a lot of things!
I have also started using Demerara sugar also from a bin at the bulk food store. I use it mainly because of the high molasses content. I love molasses! Molasses is high in iron and a lot of other minerals and I just like the taste. I particularly like it with peanut butter on something hot, where the peanut butter melts and the molasses mixes in with it. No one else in my family shares this love of molasses, but they like the cookies. You can use regular brown sugar in this cookie recipe, if you want to.
I use hard whole wheat flour, also from the bulk food store. We are trying our best to get away from using white flour for anything. I might even start making our own burger buns with hard whole wheat flour.
Another thing I add is ground flax, only because I have quite a lot to use up and it's good for you.
The recipe makes a lot of cookies – several dozen. I make them small enough to fit into those "snack" size zip lock bags.
How to make Chewy Healthy Oatmeal Cookies:
Preheat oven to 350F
1 lb butter, melted (I do this in a glass 2 cup measure in the microwave, 2 minutes)
2 cups white sugar (you can lower this for less sweet cookies)
2 cups Demerara or brown sugar, packed into measure
2 cups rolled oats
1 1/2 cups light weight commercial cereal (Spec K, flakes, rice)
2 cups combined ground whole grains (quinoa, flax, ground nuts, etc.)
5 eggs (you can add an extra egg for even more protein content)
Mix these altogether in extremely large bowl.
Add:
3 teaspoons vanilla
2 teaspoons baking soda
2 teaspoons baking powder
5 cups flour
2 1/2 cups your choice combined raisins, nuts, shelled sunflower seeds, squash seeds, chips (chocolate, butterscotch, peanut butter)
Mix into dough. You will need to drop the spoon and use your hands at some point.
Roll into balls and bake on greased cookie sheet for 11-13 minutes. Make sure your oven is baking at the right temperature.
I freeze what doesn't fit into the cookie jar. These never get hard. We even eat them frozen. I like them better that way.
Get the handy print page and save this to your recipe box here: Healthy Oatmeal Cookies.

Sheryl blogs at Providence Acres.

Interested in contributing a guest post to the Farm Bell blog? Read information here for Farm Bell blog submissions.

Want to subscribe to the Farm Bell blog? Go here.