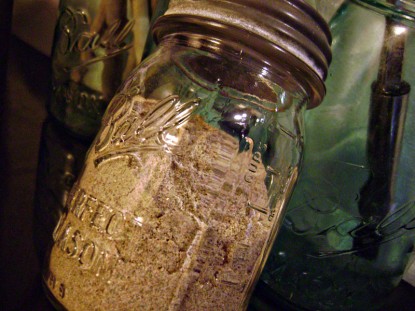 Difficulty: Easy
Servings: 3/4 cup
Prep Time:
5 min
Ingredients
1 tablespoon rosemary
1 tablespoon oregano
1 tablespoon powdered sage
1 teaspoon powdered ginger
1 teaspoon marjoram
1 1/2 teaspoons thyme
3 tablespoons packed brown sugar
3 tablespoons dry minced parsley
1 teaspoon pepper
1 tablespoon paprika
2 tablespoons garlic salt
2 tablespoons onion salt
2 tablespoons powdered chicken bouillon (or 4 cubes mashed)
1 pkg Lipton tomato cup of soup mix
Directions
Place all ingredients in blender, spice grinder or chopper "pulsing" 3-4 minutes to pulverize.
Store in an airtight container so it will not lose potency.
Makes about 1 1/4 cups.
To Prepare the Coating Mix:
Add 2 Tbsp mix to 1 cup of flour, mix well. I shake together in the bag I'm going to dip my pieces in.
To reduce the salt in this mix, I replace the salts with powders; replace the Lipton soup with 1 Tbsp tomato powder and add a little extra garlic and onion powders.
Categories: Ingredients & Mixes, Low-Sodium
Submitted by: cindyp on May 21, 2010