Don't be fooled by the title of this recipe post. There are no rice crispies in this recipe, nor does "grown-up" imply said treat is healthy, low-calorie, or in some way good for you.
Sometimes grown-ups need treats if only because they have survived the rigors of puberty, young-adulthood, and can deal with family without bonking them on the head with a wiffle bat.
Sometimes grownups need treats because he or she decided to buckle down and clean out the cupboards.
This little treat will take you all of 5 minutes of activity and can be adapted to utilize any little jars of whatever leftovers you happen to find shoved all the way back behind the more utilized flour and sugar.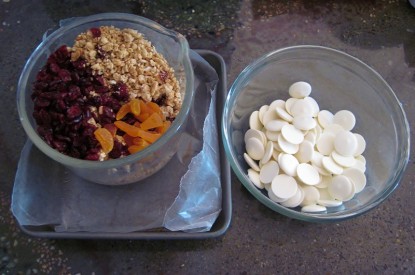 How to make Grown-up Crispie Treats:
For this batch I used:
4-5 cups granola cereal–this one was "vanilla macaroon" flavor.
2 handfuls dried cranberries
1/2 cup dried apricots, chopped
1 – 1 1/2 cups vanilla appeals, white chocolate chips or vanilla bark
Melt the vanilla appeals in the microwave for 2 minutes.
Mix until smooth. (Pop the chips back in microwave for 30 seconds, if needed.)
Mix in ingredients.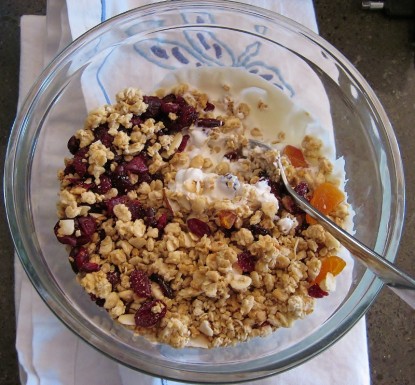 This almost looks like a bowl of cereal. Go ahead, take a bite. No one is looking…
Pour goodies into wax-paper lined pan.
Refrigerate until cool.
Remove from pan.
Break into bite-sized pieces.
Yummers!


Get the handy print page and save this to your recipe box here:
Grown-up Crispie Treats.

Larissa blogs at The Henway.

Do you have a recipe post or kitchen-related story to share on the Farm Bell blog?
Go here to read information and submit a post to the Farm Bell blog.

Want to subscribe to the Farm Bell blog? Go here.