We've been visiting friends from college and revisiting our youth. Here is a recipe from those days, cheap, quick, delicious, and easy to take to potluck parties as an appetizer. I used it for years afterwards as a side or even a main dish, depending on who present was a vegetarian or how slim the budget was. And if you are sick of an abundance of end-of-summer zucchini from your garden or friends, yet another way to use it up.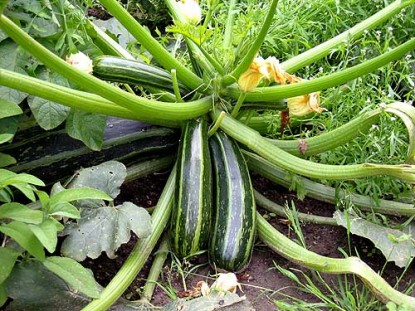 Zucchini Appetizer:
3 cups thinly sliced unpared zucchini
1 cup biscuit mix
½ cup finely chopped onion
½ cup grated Parmesan cheese
2 tablespoons finely chopped parsley
½ teaspoon salt
½ teaspoon oregano
Dash of pepper
1 clove garlic, grated or finely chopped
½ cup corn or vegetable oil
4 eggs slightly beaten
Heat oven to 350-degrees. Grease 13″ x 9″ x 2″ pan. Mix all ingredients, spread in pan. Bake until golden brown, about 25-30 minutes. Cut into 1″ x 2″ pieces; makes 4 dozen.
I substitute whole-wheat flour and a teaspoon of baking powder for the biscuit mix, and you can cut down on the oil considerably with no bad effects. It's fine without the parsley; I hardly ever have any on hand.
This came from my friend Eric Nelson, now a psychologist. I still have the original card somewhere, badly stained, in his handwriting.
Find this recipe at Farm Bell Recipes for the handy print page and to save it to your recipe box:
Zucchini Appetizer

Lisa blogs at Lisa deGruyter: Bits from One Woman's Life.

Interested in contributing a guest post to the Farm Bell blog? Read information here for Farm Bell blog submissions.

Want to subscribe to the Farm Bell blog? Go here.