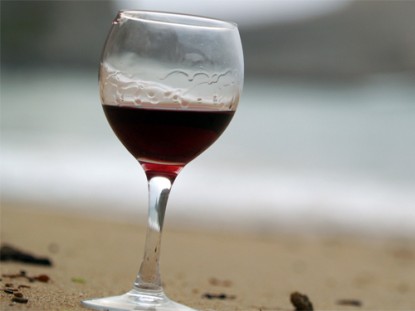 Making wine is something I always wanted to try, but frankly, the idea seemed a little intimidating! One Christmas, a neighbor changed all that for me. A lovely bottle of homemade grape wine was sent over on Christmas morning. (Perfect timing, as I was stressing out over making dinner and all the soon to be arriving company! ) The wine was delicious and arrived in a Captain Morgan Rum bottle! I could not wait to find out the story behind this delicious wine in a rum bottle!
My neighbor told me they make this wine every month and that it was very simple to do. I was told to gather up an empty plastic milk jug, a balloon with holes pricked in it, 3 cups of sugar, 1/4 teaspoon of plain old yeast, and 3 cans of juice concentrate.
Apparently this was a very common way to make wine back in the days of prohibition! One simply mixes the juice, sugar and yeast in the jug, add enough water to fill to just below the shoulder of the jug, and shake well to dissolve.
Prick several holes in the balloon. Place the balloon (latex is best) over the milk jug spout. Place the gallon of soon-to-be-wine in a dark, cool spot. The balloon will fill up over time, as the wine ferments, and then after about 3 weeks, will deflate. At that point, you will siphon the wine from the jug, into another clean jug, leaving the sediment behind. (I use a few feet of clear plastic tubing that I bought in the plumbing department at a local store.) Chill and enjoy!
After I made a few jugs of wine this way, I obtained some glass wine jugs. (You can buy some cheap wine in jugs to make vinegar with, then use the bottles for your homemade wine project!) A couple of dollars at my local wine supply store bought me a "bubbler" to use in place of the balloon (all of which you can see in the pictures.) The process is otherwise the same.
Only three weeks to some easy country wine!


Get the handy print page and save this to your recipe box here:
Easy Country Wine.

Do you have a recipe post or kitchen-related story to share on the Farm Bell blog?
Go here to read information and submit a post to the Farm Bell blog.

Want to subscribe to the Farm Bell blog? Go here.