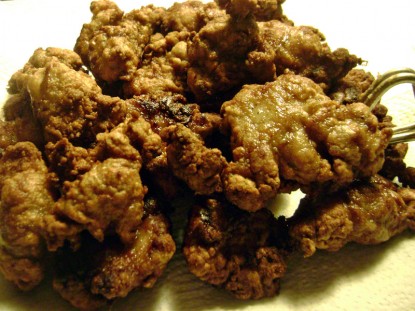 Difficulty: Easy
Servings: 4
Prep Time:
20 min
Cook Time:
6 min
Ingredients
4 skinned and boned chicken thighs or breasts
2 eggs
1 teaspoon cayenne pepper
2 Tablespoons Kentucky Kernel Coating mix (or use 1 cup Kentucky Kernel Flour from the store)
1 cup flour (omit if using store bought Kentucky Kernel Coating Mix)
1/4 cup cornstarch
Pan with 2? oil heated to 375 degrees or use a deep fryer
Directions
Skin, bone and cut the chicken into approximately 2″ pieces.
Whisk together eggs and cayenne pepper in a shallow bowl.
Mix together the Kentucky Kernel Coating mix, flour and cornstarch in a plastic bag.
Coat the chicken pieces in the egg, then shake in the bag of flour mixture all at once.
Lay pieces onto a wire rack over a pan and let rest for 10 minutes. This lets the coating soak into the chicken so you don't lose it in the oil.
Put the chicken pieces into the oil and cook until done – the pieces will start to float – mine took about 6 minutes. I turned them over once to get an even browning.
Drain onto paper towels.
Categories: Appetizers & Snacks, Kid-Friendly, Poultry
Submitted by: cindyp on September 10, 2010