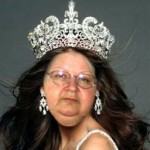 Say hello to Mary from Ohio!
Food interests: There are very few things I don't like. I'm an old fashioned cook, but I also like trying new things..
Hobbies: EATING, cooking watching tv, gardening [some] fishing, most of all… my chickens, they're a hoot. Some quilting, and of course being on the computer.


Q. What are your favorite things to cook?
I love cooking homemade stuff. I immigrated to the USA in 1952 with my parents and siblings at the age of 4. My mom cooked Croatian foods and thus I learned from her. Most of that food is stick to your ribs and fattening but oh, so good!! Breads, dumplings, noodles, meat was always stretched with something fattening or doughy, lol. At this point in my life I like to cook easy things like one pot meals, things that don't mess my kitchen up too much and leave me with few dishes to wash. Yea, I'm getting lazy (why am I such a recipe hoarder?). We put in a small garden and I am always looking for new pickle recipes, something a little different.
Q. How/when did you learn to cook?
I remember watching my mom cook at an early age. Probably when I was five I wanted to help. She would let me shake that quart of cream till it turned to butter, and let me help mix batters and knead dough about the same age. I'm sure I was more in the way than I was a help, but she didn't seem to mind. About the age of 9 or 10 I started to do a little of my own experimenting with a cook book. I would scan the recipes and look for something that I could turn into a new delicious thing to eat that didn't take much ingredients to make. We were poor and mom didn't have very many things to choose from. Kind of like trying to make a silk purse out of a sows ear I guess. She was afraid sometime I would waste stuff but she didn't stop me, and I remember telling her if no one else would eat it, I would eat it all!
Q. Tell us about some of your cooking triumphs.
Well, here there's not much to tell. I'm not a very fancy person. More country I guess than Big City, and I don't go all out for big elaborate dinner menus, so I stay away from expensive fancy foods and recipes of such. I did go to a cakes decorating class, and became quite good at that and made some beautiful cakes. I love to sit and decorate cookies at Christmas and special holidays.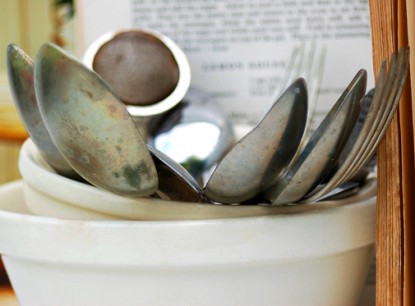 Q. What was your most memorable cooking tragedy?
I for sure have a few but nothing drastic enough that it couldn't be eaten. My most recent was of a Chocolate bread I tried to make using a cake mix, adding flour and yeast to make a bread with cream cheese and Maraschino cherry filling. It just didn't work out and I ate the filling and had to throw out some of the rest but some got ate, too. Don't you just hate that when it happens? I was afraid to give it to the chickens because of the chocolate, and I didn't want the birds to have it either!
Q. Describe your kitchen. Do you love it, hate it, and why?
I love my kitchen! When I moved here I thought finally I would have enough cupboard space for every thing I own, all my pot, pans, dishes….NOT! I do have a lot of cupboards, but I guess I'm a hoarder, too. No one needs as much cook ware as I have. It's not great, expensive stuff , but it has taken me over 40 years to acquire it and it's so hard to part with. So what do I do with what I don't use and don't have room for? Don't look in my basement!
Q. Is your pantry organized and are your kitchen drawers tidy? We need to know.
I'm not very organized, but I do know where my stuff is. I've tried to organize things. With just me and hubby here it should be easy, but some how it always get pushed around , and I end up having to play hide and seek with my canned goods. As for my drawers, they're not bad…….really.
Q. Do you have any favorite family cooking traditions?
A few. For Easter I like to do what my mom always did. Sunday after we would come home from church she would let us eat Kielbasa with boiled eggs and spring onions fresh out of the garden. This was so good as we weren't allowed to have meat the last week of lent and that kielbasa was the best! We had Pinto bean soup on Fridays a lot too, and it seems most times when I make bean soup is on Fridays.
Q. What is the one gadget (or ten) you couldn't do without in your kitchen?
I couldn't give up my hand crank can opener. I don't like to waste counter space for an electric one and that is something I have to have. I got my first Kitchenaid mixer about 1 yr. ago and I would hate to give it up even though I don't use it all that much–it makes mixing things so much easier than a hand mixer.
Q. If you had to take one food to a deserted island, what would it be?
It would have to be Potato Salad!!! Even if I was on death row, it would still be Potato Salad.
Q. What is your go-to comfort food?
Need I say more???? POTATO SALAD.
Some of Mary's favorite dishes she's submitted to Farm Bell Recipes: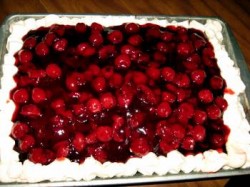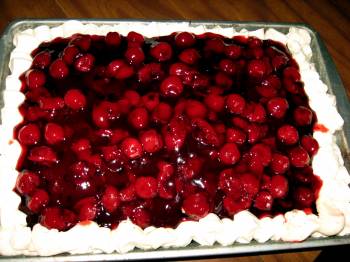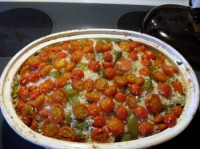 See all of Mary's recipes!



Do you have a recipe post or kitchen-related story to share on the Farm Bell blog? See Farm Bell Blog Submissions for information and to submit a post.

Want to subscribe to the Farm Bell blog? Go here.