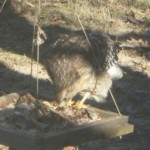 Say hello to Ross from Bel Air, MD!
Food interests: Family cooking and canning.
Hobbies: Woodcraft, gardening, baking, sailing, learning.


Q. What are your favorite things to cook?
Any kind of meat, roasted, broiled, fried, sautéed, or boiled.

Q. How/when did you learn to cook?
I can't remember learning to cook. We all started when we could understand instruction.

Q. Tell us about some of your cooking triumphs.
I did a surprise birthday party for my wife Nancy. Complete with cold meat plates, fresh breads and three lemon meringue pies and fifteen guests.

Q. What was your most memorable cooking tragedy?
That has to be the night I made hash and ground the potatoes and the ham but didn't know to rinse the starch away. When it cooked the starch thickened and turned the entire pan of hash into a single mass of rubbery inedible garbage.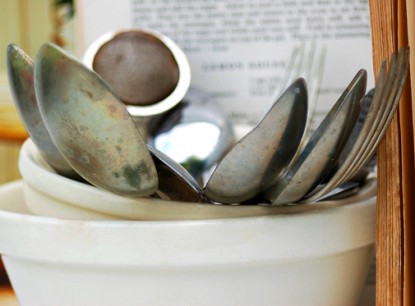 Q. Describe your kitchen. Do you love it, hate it, and why?
I love my kitchen. It has enough storage for all of my everyday cooking ware and for three sets of table ware and all of the spices, herbs and condiments that I use. I have a free standing range with a venting hood and a large table with a smooth Formica top. I have a double bowl sink with a garbage disposal.

Q. Is your pantry organized and are your kitchen drawers tidy? We need to know.
The pantry is very well organized with the more frequently used items closer to the front. My kitchen drawers are organized to the extent of keeping mixing tools separate from cooking tools and my knives are in a drawer of their own and laid out flat so that the edges are all protected from abuse.

Q. Do you have any favorite family cooking traditions?
For entertainment occasions, Nancy and I both cook and both clean up.

Q. What is the one gadget (or ten) you couldn't do without in your kitchen?
My knives, the collection of stainless steel bowls, my food processor, the Mouli grater, and of course the pots and pans for cooking.

Q. If you had to take one food to a deserted island, what would it be?
Chicken–it is the most versatile!

Q. What is your go-to comfort food?
Fried savory meat or soup.
Some of Ross's favorite recipes that he's contributed to Farm Bell Recipes include: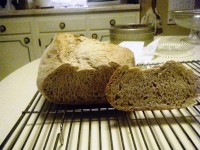 See all of Ross's recipes and blog posts!


Do you have a recipe post or kitchen-related story to share on the Farm Bell blog?
See Farm Bell Blog Submissions for information, the latest blog contributor giveaway, and to submit a post.

Want to subscribe to the Farm Bell blog? Go here.
What can you enter to win this month? Click here.