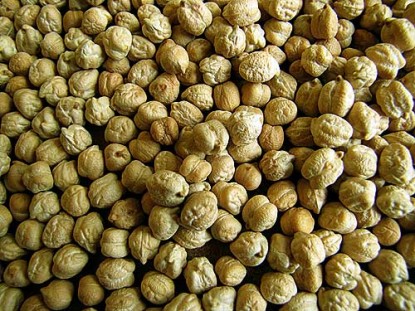 Hummus is the Arabic word for chickpea. (In Spanish, it's garbanzo.) But it's not just a bean! It's a dish, and practically an entire culture. As a dish, it's a chickpea and tahini concoction mixed with olive oil, lemon juice, and garlic (and often cumin and paprika and other seasonings). As a culture, it's claimed all over the Mediterranean and Middle East, but it truly belongs to the world. It's used as a dip for veggies and crackers, in sauces on meat and fish, and plays a role in many other recipes.
Because of the strong vegetarian traditions in some Mediterranean and Middle Eastern countries, it's become a standby in vegetarian and vegan cooking here. But it's not just for vegetarians and vegans! Often, American meat-eaters tend to look askance at it as some pasty-looking, unfamiliar bean thing and not want to have anything to do with it, but it's actually quite tasty–and as tasty as you want it to be if you make it yourself! Spice it up all you like. It's the chickpea cousin to the uber-popular pinto bean dip, and can be just as flavorful. Chickpeas have a deliciously natural nutty taste, and even if you're not a vegetarian or vegan, it's a great change-of-pace chip dip.
Weston's vegan girlfriend loves hummus, so as part of my growing repertoire for her, I decided to try it out, and it's now a favorite here. And no surprise–after all, I love pinto bean dip! It hadn't occurred to me before that hummus was just the same–only different. In some ways, better, because I love that natural nutty flavor, enhanced further by the sesame tahini.
I couldn't find sesame tahini in the grocery stores in our small town, so I started out by learning to make my own.
How to make Homemade Sesame Tahini:
1 cup sesame seeds, hulled or unhulled
1/4 cup olive oil
Spread sesame seeds on an ungreased cookie sheet and toast at 350-degrees for 5 minutes. (Don't burn.) Let cool briefly then place in a small food processor. Add olive oil a little at a time and process till smooth (or as smooth as you can get it). Turn it off every little bit and keep pushing the mixture down in the processor with a knife then blend again. You can double or triple the recipe–sesame tahini keeps well in the refrigerator for weeks. Use in dressings, sauces, hummus, falafel, etc!
Now it's time for the hummus! Chickpeas are cheap and it's easy to cook your own, or just pick up a few cans at the grocery store. By the way, if you cook your own chickpeas, you will see them shed their "skins" when they cook. That's okay. It's not necessary to remove the skins! All beans shed skins to some extent as they cook. Chickpeas do this more than other beans, but there's nothing wrong with it.
Leave 'em alone!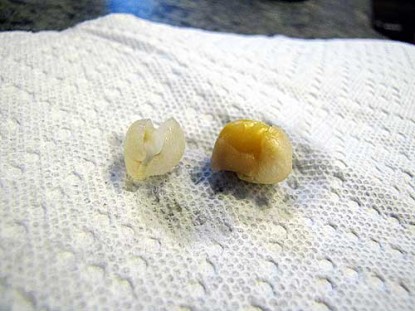 To cook your own chickpeas, you can do the overnight long soak if you want, but I just do the short one-hour boil and soak then drain and rinse, cover with water, and cook a couple of hours until tender–or cook them quickly (about 7 minutes) in a pressure cooker! You can also home-can chickpeas in a pressure canner.
Chickpeas are a great source of vegetable protein. Cook a big batch and plan ahead–they freeze well in a little bit of the cooking liquid. I've been freezing them in 3-cup batches so I can make hummus on a dime anytime Weston's girlfriend comes over. And sometimes just for me.
How to make Hummus:
2 15-ounce cans chickpeas, drained and rinsed, or home-cooked chickpeas
1/3 cup olive oil
1/4 cup lemon juice
3 tablespoons sesame tahini
1 teaspoon minced garlic
1/4 cup water, more or less for desired thickness
pinch ground cumin or coriander
salt and pepper to taste
paprika
Place half the chickpeas and half the oil in a food processor or a blender.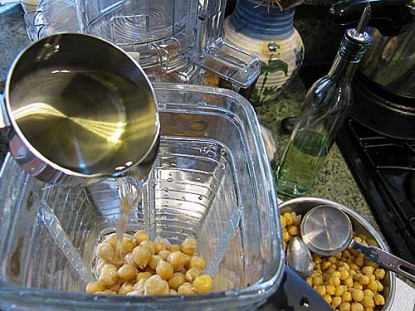 Pulse several times, stopping to stir and push mixture back down. When it's starting to get creamy, add the rest of the chickpeas and olive oil. Blend till smooth. Add remaining ingredients, except for salt, pepper, and paprika, and blend. When it's all creamy-smooth, add the salt and pepper to taste and blend again. To serve, sprinkle with paprika and add a drizzle of olive oil.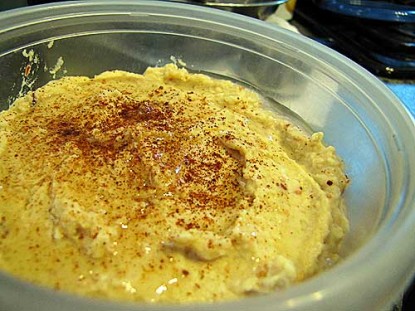 Variations: After blending, fold in 2-3 tablespoons fresh herbs (or 2-3 teaspoons dried herbs), 1/2 to 1 cup caramelized onions or roasted peppers, 1/4 cup chopped olives, or 1/2 cup chopped fresh spinach. If you don't like the taste of tahini, you can even leave it out. Or try black bean hummus–use black beans instead of chick peas! The world is your hummus!



Get the handy print pages and save these to your recipe box here:
Homemade Sesame Tahini
Hummus

Do you have a recipe post or kitchen-related story to share on the Farm Bell blog? See Farm Bell Blog Submissions for information and to submit a post.

Want to subscribe to the Farm Bell blog? Go here.