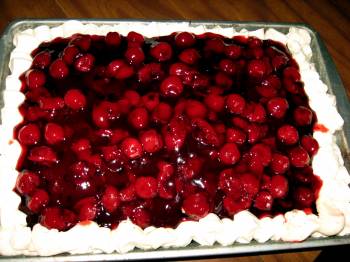 Difficulty: Easy
Servings: 12-14
Cook Time:
35-40 min
Ingredients
1 chocolate cake mix
3 eggs
1/2 cup oil
2 cups coke (divided)
1 can cherry pie filling
Directions
Mix favorite chocolate cake according to package directions, except subsitute cola for water. Bake as usual. I did a 9 9 x 13 pan. Cool completely.
Mix remaining cola with 1 can cherry pie filling , cook in saucepan till it thickens, stirring now and then. Cool and spread on cake.
I made a cooked frosting to pipe around my edges but this is not necessary, you can serve this cake with cool whip if you like.
Submitted by: marymac on June 12, 2010