I've been experimenting with recipes recently from Veganomicon: The Ultimate Vegan Cookbook
. Sometimes I don't have all the proper ingredients and I have to make substitutions. Sometimes this works out and sometimes it doesn't, but I was happily surprised at how well these black bean burgers worked out.
I was quite suspicious. I always have trouble getting bean burgers to stick together without eggs, but an egg wasn't the missing ingredient here, of course, since these were vegan burgers. What I was missing was the 1/2 cup of vital wheat gluten. Instead, I used 1/2 cup of Quick Mix. Whenever I make "regular" burgers, I add Quick Mix to the ground meat mixture. I know, it sounds odd to add baking mix to burgers, but it works really well! Then I add a couple eggs, too, but…. I was determined to see the vegan black burgers through to the end.
Here's how I made them–with the surprisingly delightful results.
Black Bean Burgers
2 cups cooked black beans, drained
1/2 cup Quick Mix (or other baking mix)
1/2 cup bread crumbs
1 teaspoon chili powder
1 teaspoon garlic salt
1 teaspoon cumin
1 teaspoon crushed red pepper flakes
1 teaspoon onion powder
1 tablespoon ketchup
1/4 cup water
vegetable oil for frying
Mash beans–but not quite completely. It's okay to still have a few partial beans in there, just mostly mash. Add the baking mix, bread crumbs, and seasonings; mix. Add ketchup and water. Mix well to blend. Dump the mixture out onto a baking mix-floured sheet and divide into 6 parts. Form each part into a ball.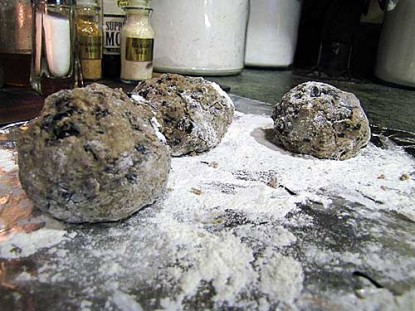 Heat oil in a skillet over medium heat. Place three balls at a time in the hot oil. Mash with the spatula to make patties.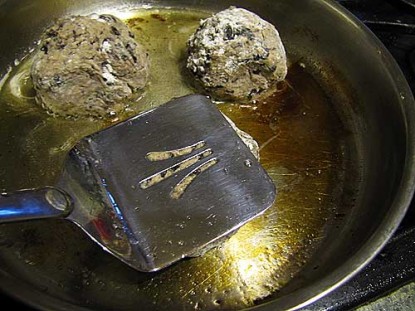 Fry about 7-8 minutes, till nicely browned–
–then flip to fry another 7-8 minutes on the other side.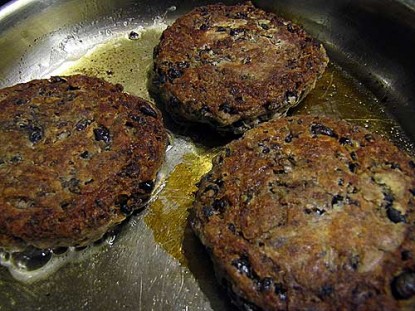 I was amazed at how well these burgers stayed together and well, how meaty they appeared.
We had them with melted cheese on top because Weston's vegan girlfriend wasn't actually here. I was just trying out the recipe.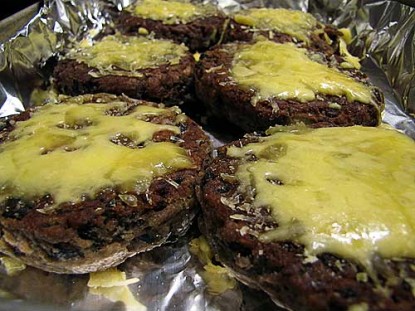 They were delicious! Don't they look meaty???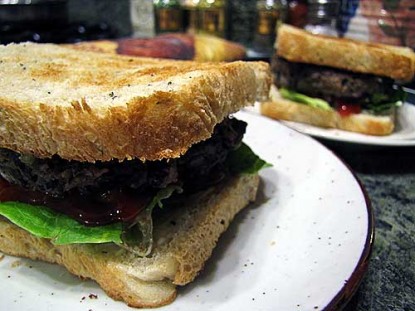 Find the printable recipe here and save it to your recipe box:
Black Bean Burgers
P.S. You could change up the seasonings to suit yourself, of course, and even use half ground meat and half beans if you aren't going for a vegan burger. It would stretch your meat dollar further and still make a yummy burger!

Do you have a recipe post or kitchen-related story to share on the Farm Bell blog?
Read information here for Farm Bell blog submissions.

Want to subscribe to the Farm Bell blog? Go here.