What is menu planning? Planning ahead of time (usually by either week or month) what meals you'll cook. Meal planning makes life easier when it comes to the end of the day. We all know that–I just wish I did it! I rely a lot on the canned meals in the pantry.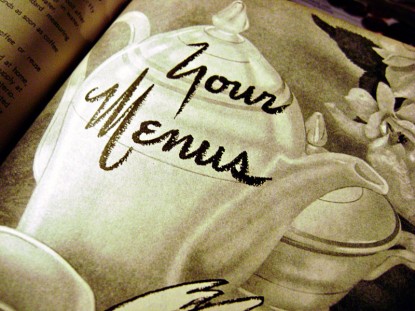 Look what's in Mom's old cookbook–menus by the month.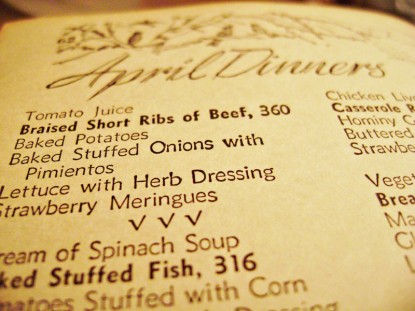 There are 30 different menus all planned out, all the way down to what to drink, with a special Sunday Dinner. April's Sunday Dinner is Roast Leg of Lamb with Mint Sauce.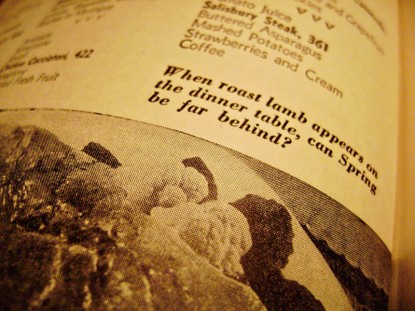 I need a roast lamb!
It reminds you when the smelt should be running, too. I do miss smelting–I never remember when it is.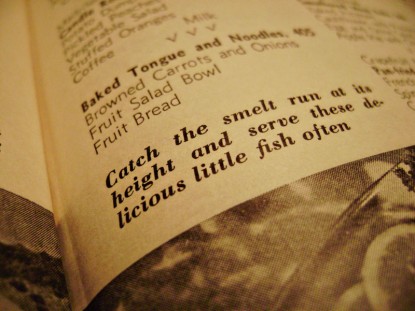 When we were kids, smelting was in April (right around Mom's birthday) and suckers ran in May (right around Mother's Day). Mom did not appreciate our gifts of buckets and buckets and buckets of fish.
Luncheons, too. Don't forget April Fool's Day!
Hard-cooked Eggs in Jellied Bouillon
Meat Loaf in Blanket with Mushroom Sauce
Vegetable Salad
Fresh Strawberry Tarts
That's just for lunch. Hmmm, not really sure what to think of the Jellied Bouillon, though…
And don't forget the lunch desserts…mmm…luscious shortcake with berries.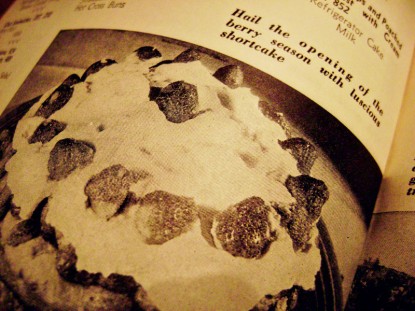 I think we need less snow than we have now.
Now if these dishes were just common, I could open this book every week and pull out 7 different meals and be done with it once, do the grocery shopping once, know what I was going to have on Friday way back on Monday. Wouldn't that just be heaven…sigh.
Do you menu plan? Or do you go willy-nilly the way I do?
Join the Menu Planners Group!

Cindy blogs at Chippewa Creek ~ Our Life Simplified.

Do you have a recipe post or kitchen-related story to share on the Farm Bell blog?
Read information here for Farm Bell blog submissions.

Want to subscribe to the Farm Bell blog? Go here.