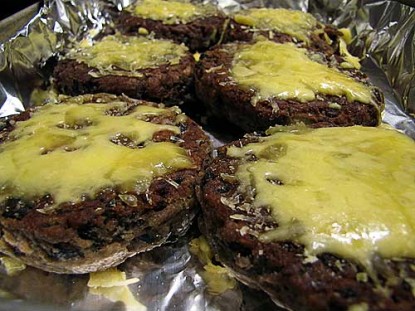 Difficulty: Easy
Servings: 6 burgers
Prep Time:
15 minutes (not counting bean cooking time)
Cook Time:
10 minutes per batch in skillet
Ingredients
2 cups cooked black beans, drained
1/2 cup vital wheat gluten flour
1/2 cup bread crumbs
1 teaspoon chili powder
1 teaspoon garlic salt
1 teaspoon cumin
1 teaspoon crushed red pepper flakes
1 teaspoon onion powder
1 tablespoon ketchup
1/4 cup water
vegetable oil for frying
Directions
Mash beans–but not quite completely. It's okay to still have a few partial beans in there, just mostly mash. Add the vital wheat gluten flour, bread crumbs, and seasonings; mix. Add ketchup and water. Mix well to blend. Dump the mixture out onto a baking mix-floured sheet and divide into 6 parts. Form each part into a ball. Heat oil in a skillet over medium heat. Place three balls at a time in the hot oil. Mash with the spatula to make patties. Fry about 7-8 minutes, till nicely browned then flip to fry another 7-8 minutes on the other side. Melt cheese on top if you're not vegan, or use soy cheese.
Categories: Beans, Beans, Grains & Rice, Budget, Kid-Friendly, Main Dish, Special Diets, Vegan, Vegetarian
Submitted by: suzanne-mcminn on March 28, 2011