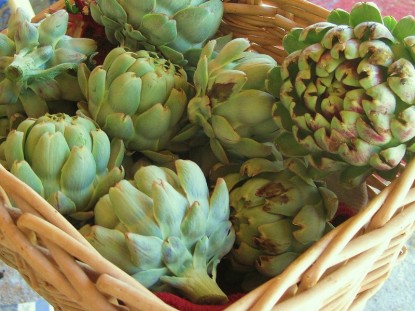 It is starting to heat up here in Phoenix. This week, we'll be holding a steady 110+ degrees. It will stay that way until a drought-reduced monsoon season rolls through, making it 115+ degrees and 75% humidity.
Non-desert dwellers will say things like, "But it is a DRY heat."
Mmmhmmm, yes. Dry like the surface of the sun. The dry heat turns my skin to that of a snake shedding its skin. My heels become the surface of Tattoine. When the humidity rolls in, I get kankles and sausage toes. The heat is hot.
Don't get me wrong–I say plenty of silly things myself (see preceding sentence). I am unprepared to deal with non-desert weather. If it snowed, I would probably croak within minutes.
It's true.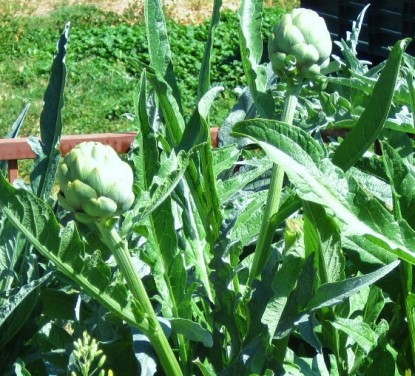 So, I try not to complain too much about the heat. I WILL complain about the loss of my garden, though.
Lettuces–went to seed and bitter.
Radishes–like they never happened.
Beets–eaten by lord knows what.
Cabbage–hah!
My artichokes are putting on their final show, though. Just yesterday I cut them WAAAAY back. They were taking up precious summer squash room.
Total 'choke count for the year: Over 100. That's right, over 100 'chokes from three smallish plants.
Can I get a, "What, WHAT!!!?"
My kids are in messy food heaven.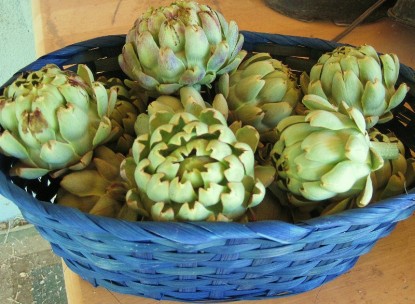 How to cook (and eat) Artichokes:
1. Submerge completely in water. Use a smaller pan lid to hold them under water, if necessary.
2. Boil 45-50 minutes, or until tough outer leaves pull off easily.
3. Drain completely.
4. Pull off leaves, dip in favorite dips (garlic butter, mustard, mayo, vinegar).
5. Scrape tender part of leaves clean with your teeth.
6. Do not eat spiny parts or poky undeveloped petals.
7. Scrape out spines. Enjoy the heart of the artichoke.


Get the handy print page and save this to your recipe box here:
Artichokes.
Larissa blogs at The Henway.

Do you have a recipe post or kitchen-related story to share on the Farm Bell blog?
See Farm Bell Blog Submissions for information, the latest contributor giveaway, and to submit a post.

Want to subscribe to the Farm Bell blog? Go here.
Check out the latest blog contributor giveaway!