You've heard of "fluffy butt chickens"? Well, these are a little different!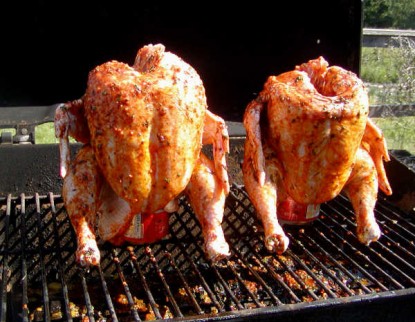 These are Beer Butt Chickens!
This is actually my hubby's post, who actually did the prep and cooking as he usually does. I do the baking…usually.
"I took my chickens for a walk today. I closed the lid so I guess they won't go far. Those are 3/4 full cans of beer they're sitting on, a place to rest if they get tired. I'll come back in a couple of hours and see how they're getting on. I hope they enjoy the exercise!"
How to make Beer Butt Chicken:
Whole chicken, rinsed and dried
3/4 (12 oz) can of beer, any kind
The sauce:
1/2 cup real butter
2 Tablespoons sweet Hungarian paprika
Salt and pepper to taste
Pinch of cayenne
4-6 cloves fresh garlic minced
1/4 cup parsley
Combine all sauce ingredients. Rub it onto the outside of the chicken.
Place the chicken on the beer can on the grill. The can should fit tight enough that the beer doesn't leak out the bottom. If there is room for leakage, you can insert a potato or carrot with it.
Close the grill lid and let it grill/roast for a couple hours until done. The beer will boil and continually baste the inside of the chicken.
The chickens were delicious and so juicy and tender!


Get the handy print page and save this to your recipe box here:
Beer Butt Chicken.
Sheryl – Runningtrails blogs at Providence Acres Farm.

Do you have a recipe post or kitchen-related story to share on the Farm Bell blog?
See Farm Bell Blog Submissions for information, the latest blog contributor giveaway, and to submit a post.

Want to subscribe to the Farm Bell blog? Go here.
Would you like a chance to win a Euro Cuisine yogurt maker?
Click here.