PS — that would be pre-Suzanne (2008) and her constant enabling of everything handmade, scratch-cooked, handpicked, handwoven, whittled from a log with her blog, the forum, and now Farm Bell Recipes– this was the yogurt that was in my shopping bag every week. Lots of them.
Photo from yocrunch.com

Now, I've been making my own yogurt in a crockpot for well over a year. And I've been very happy just adding some vanilla or having a fruit-on-the-bottom with a spoon of jam.
But for some reason, after all this time, I started thinking of my old YoCrunches. I've been missing my granola!
I searched YoCrunch's website to find the ingredients of their granola. Pretty simple and straightforward if you leave out the soy lecithin and caramel color. I was prepared to experiment to come up with my granola! But I looked at the Granolas here on Farm Bell first. Easier! Recipe included! I chose Kelly in Tx's Kid-Friendly Granola. I had everything and if I left out the raisins, nuts and coconut, it was the granola in the little plastic top of my old yogurt. I decided to leave the coconut in–I like toasted coconut!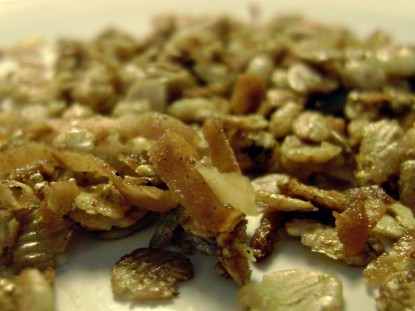 How to make Kid-Friendly Granola:
3 cups old-fashioned oats
2 cups rice cereal (I use Rice Krispies)
1 cup shredded coconut (I use sweetened)
1/4 cup brown sugar
1/4 cup maple syrup or honey, warmed slightly
1/4 cup vegetable oil
3/4 teaspoon salt
1/2 teaspoon cinnamon (optional)
1 cup raisins (optional)
1/4 to 3/4 cup chopped nuts (optional)
Preheat oven to 225 degrees.
Combine all ingredients except raisins in a very large bowl. I doubled this recipe. I used a 7-Cereal instead of just rolled oats. Also, pumpkin pie spice instead of just cinnamon.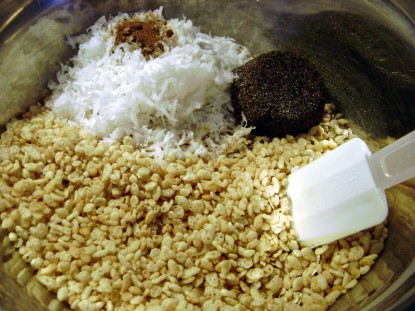 Mix until everything is well combined. You may need to slightly warm the syrup or honey if it is too sticky-–it needs to be runny to coat everything.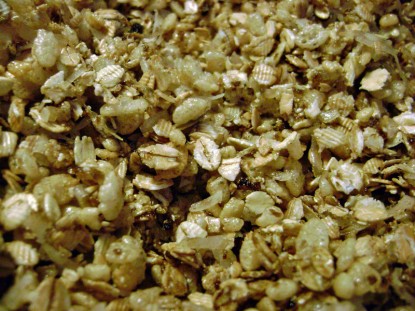 Spread onto a cookie sheet and place in oven. I used my huge pan (it's the size of my oven grate).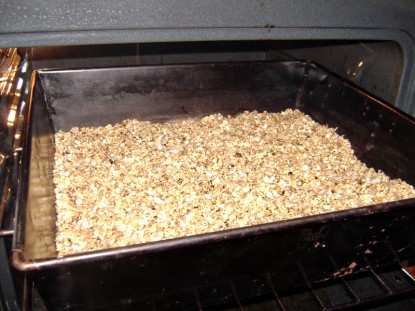 Stir about every 10 to 15 minutes until everything is golden brown, usually about an hour. After about 45 minutes, it was not getting very dry, so I divided the mix up into 2 pans. Went much faster!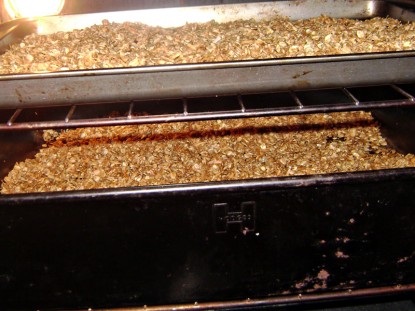 Keep an eye on it – don't let it burn!
Remove from oven and add raisins or other dried fruit, if using.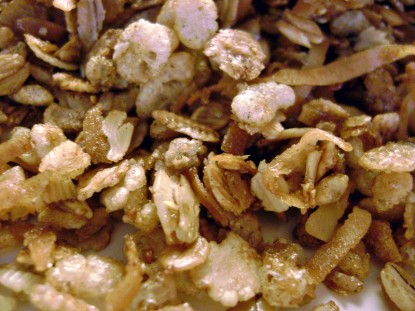 Let cool completely and store in airtight containers.
This doubled recipe made 3 quarts of granola. I've been eating it by the handful!
And in my yogurt! I have my own handmade, scratch-cooked YoCrunch!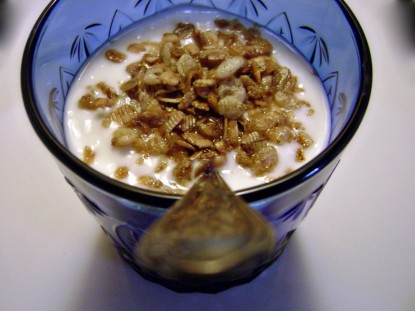 Get the handy print page and save this to your recipe box here:
Kid-Friendly Granola.

Cindy blogs at Chippewa Creek ~ Our Life Simplified.


Do you have a recipe post or kitchen-related story to share on the Farm Bell blog?
Read information here for Farm Bell blog submissions.

Want to subscribe to the Farm Bell blog? Go here.