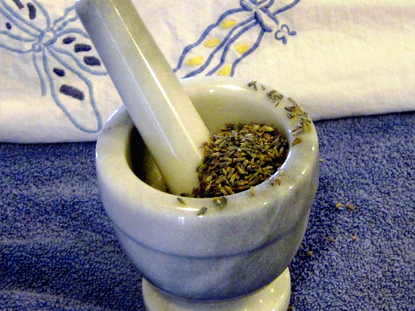 Recently, I did a post for a super-complicated recipe for lavender sugar. Lavender sugar can be used in all sorts of stuff, but I love it in my tea. But still, something was missing.
How about some lavender-sugar lemon tea cookies? They are WAY super-hard. Just like the lavender sugar. Totally hard.
I actually made these harder than they needed to be. I had an excess of lemon peel in my cupboard, which I decided to use up. I soaked the peel overnight, processed it, and added it to my tea cookies. While I liked it, the little critics in the house complained–the lemon peel added bits of texture and occasional bitterness which the munchkins didn't like.
Oh, well. Ya can't please everyone all of the time. Still, I suggest you leave out the lemon peel and stick with a bit of lemon zest.
How to make Lavender-Lemon Shortbread Tea Cookies:
1 cup butter, softened
1/2 cup lavendar sugar
1/4 cup powdered (or regular) sugar
2 tsp vanilla extract
1 tsp lemon extract
A pinch of lemon zest
2 cups flour
1/4 tsp baking powder
1/4 tsp of salt
Wax paper or plastic wrap
Gather ingredients and The Help.
Have The Help measure wet ingredients and mix well.
Add in lavender sugar.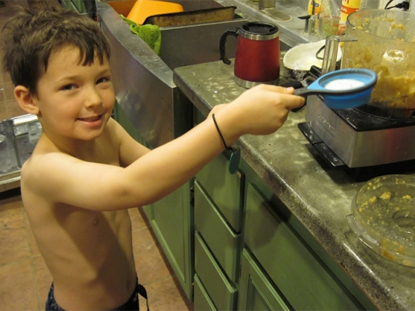 Mix in flour. You may need more Help.
Take dough and place on plastic wrap/wax paper. Roll dough into stick.
Chill for 4 hours, or freeze logs in Ziploc bags for up to 1 month.
Remove dough from fridge. Let thaw if frozen.
Resist urge to chase The Help around house and whack them with dough log.
Give in to urge. Yell, "ZOMBIES!" for no apparent reason.
Be wary of the turns. The Help can corner faster than you can, especially if you have socks on.
Biff royally, in a blaze of awkward glory.
Limp to kitchen.
Cut cookies from log.
Place cookies 1 inch apart on parchment paper-lined (or Silpat) cookie sheet.
Bake at 350 degrees for 10-12 minutes.
Remove from oven, let cool.
Enjoy cookies with a nice hot cup of lavender-sugar tea.
Nurse owie.
Get the handy print page and save this to your recipe box here:
Lavender-Lemon Shortbread Tea Cookies.

Larissa blogs at The Henway.

Do you have a recipe post or kitchen-related story to share on the Farm Bell blog?
Read information here for Farm Bell blog submissions.

Want to subscribe to the Farm Bell blog? Go here.