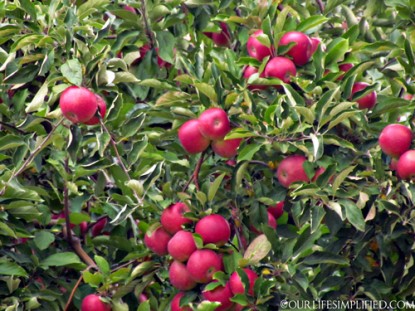 The apple trees are still loaded with apples here in West Michigan. They've been picking and packing apples for quite a few weeks and still have lots to pick!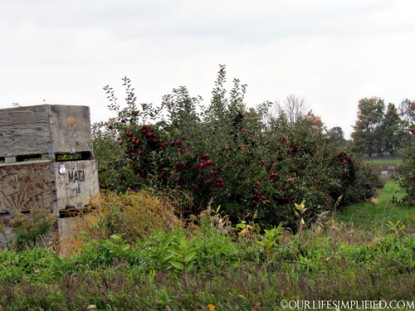 With apple season comes apple cider (among other things).
The difference between apple juice and apple cider is a press. Apple cider is actually made by mashing apples into applesauce-like consistency and the juice pressed out. With apple juice, the juice is extracted (think steam juicer) and filtered so there are no bits or sediments left.
You can make your own apple cider the old traditional way, but living in apple growing country, I have contacts. They give me jugs of cider–already pressed, left unpasteurized, and ready to drink.
Many "cider" recipes start with apple juice–it's easier and cheaper to come by. For those that don't want to press the old-fashioned way (or don't have friends that give it to you), you can "press" your own cider–in cheesecloth!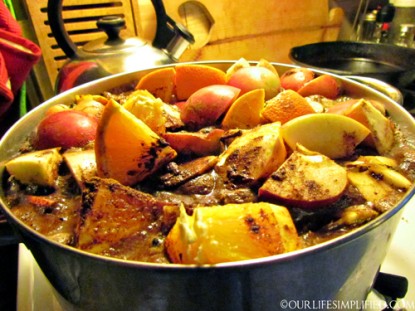 How to make Spiced Apple Cider: Printable
Wash and roughly chop apples (I fill my 6-quart pot 3/4 full) and 1 small orange. Don't peel, seed or anything. Just cut them up and put them in a large pot! Make sure the pot is big enough for boiling room. I use my stock pot.
Add 1 cup brown sugar.
Add 4 cinnamon sticks (or 1 Tablespoon ground cinnamon) and 24 whole allspice (or 1 whole nutmeg + 1 tablespoon whole cloves or 1 Tablespoon ground allspice).
Cover with water.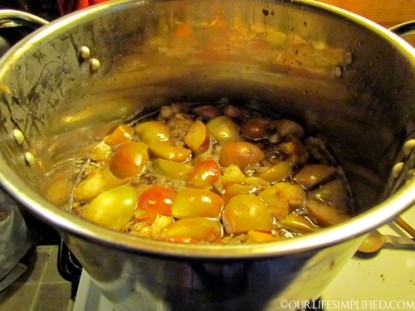 Bring to a boil, cover and boil for about 1/2 – 3/4 hour until it's mashable. Mash everything together with the back of a spoon. Cover and simmer for 1-2 more hours.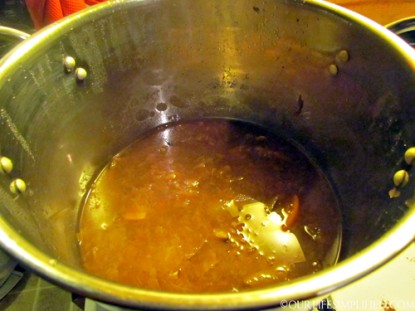 Strain through cheesecloth or tea towel into a pot.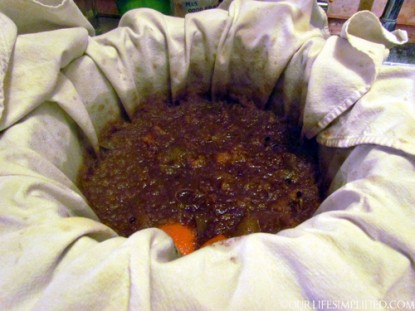 Squeeze out every last drop when it's cool 🙂 I yield around 3/4 gallon. This is like pressing the cider, you will have sediment left in the bottom–shake the jug before using!


THEN!
Make some Hot Caramel Cider! Printable
Mix in 3 tablespoons caramel topping (try the homemade version of caramel!) per 1 1/2 cups of hot spiced apple cider, apple juice *, or non-spiced cider *. *If you're using apple juice or non-spiced cider, add 3 tablespoons Apple Cider Syrup (recipe below).
Top off with some whipped cream, drizzle with more caramel, and sprinkle with cinnamon or nutmeg.



Because I have jugs of non-spiced apple cider (and because it just sounded delicious for pancakes), I made some Apple Cider Syrup to spice up my Caramel Apple Cider.
How to make Apple Cider Syrup: Printable
Mix 4 cups apple cider, 2 cups brown sugar, and 1 tablespoon pumpkin pie spice together in a pan. Bring to boil over medium heat. You can add a tablespoon of butter to keep it from foaming. It really foams!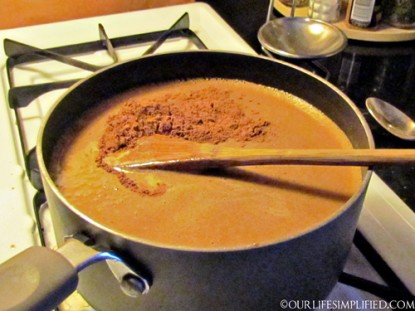 Continue cooking, stirring constantly over medium heat until the sugar is dissolved. Turn to low and simmer for five minutes or until as thick as you'd like it. I left it somewhat thin so I could use it for different things.
I consulted with Dede~wvhomecanner and she says its safer to process this in a BWB than regular simple syrup because of the acidity in the cider. WooHoo!
I mix 3 tablespoons of this syrup to 1 1/2 cups hot apple cider (from the jug) or regular apple juice before adding the caramel in the Hot Caramel Cider.
Put it on your pancakes instead of maple syrup! Wonderful! Delicious!


Apple cider reminds me of warmth, comfy, and cozy all bundled together. Though I don't like the chilling weather, fall brings apples and I love apples–ciders especially. Enjoy some today!


Cindy blogs at Our Life Simplified.

Do you have a recipe post or kitchen-related story to share on the Farm Bell blog?
See Farm Bell Blog Submissions for information, the latest blog contributor giveaway, and to submit a post.

Want to subscribe to the Farm Bell blog? Go here.
What can you enter to win this month? Click here.