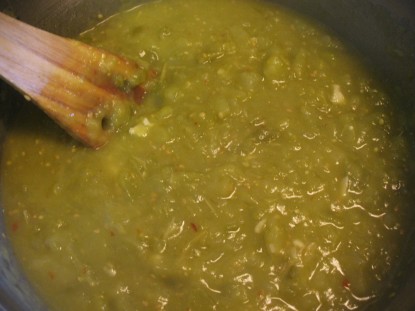 A Householder's Guide to the Universe
, by Harriet Fasefest.
Difficulty: Easy
Servings: lots--makes large pot
Prep Time:
20 minutes
Cook Time:
1 1/2 to 2 hours
Ingredients
5 pounds green tomatoes, chopped with skins on
1 large bulb (about 10 cloves) garlic, peeled
1/2 cup olive oil
1-2 teaspoons crushed red pepper (or more to taste)
2 1/2 cups white wine
1/2 cup pepperocini
Salt and pepper to taste
Directions
Peel garlic and saute in 1/2 cup olive oil (be careful not to burn).
Add the tomatoes and mix well. Add all other ingredients, mix well.
Cook until reduced to a thick sauce. Salt and pepper to taste.
Categories: Sauces, Vegan, Vegetarian
Submitted by: citygirlfarming on October 15, 2011