Throughout my childhood, my family created many traditions involving food and entertaining. Although we never had much money, my parents worked hard to make sure our family holidays filled all five of us kids with joy and a sense of togetherness that lasted well after the holiday. We cooked holiday meals together and invited extended family, friends and neighbors to join in on the fun. As my older siblings grew up and started their own lives, our holiday meals drew smaller crowds and held a little less merriment due to fewer place settings, but the year before I went off to college I had the holiday of a lifetime.
Halloween had just passed, leaving a tinge of melancholy in its wake at the thought of a lonely Thanksgiving, which had always been my favorite holiday. While I should have been thinking about how to spend my last year of freedom before college, I seemed only able to focus on the absence of my siblings and the lack of tradition, especially our annual Thanksgiving eve spaghetti feast. What my parents and I didn't know was that my siblings had conspired to give us a surprise for the Thanksgiving season.
The day before the holiday, I awoke to a full house for the first time in several years. My sisters and twin brothers had arrived early that morning laden with bags of groceries and had already gotten Mama's big saucepot out of the basement. After a round of hugs and kisses, we gathered around the dining table with mugs of robust coffee and a plate of banana nut muffins from the local bakery. By the time we were up-to-date with each other's lives, it was nearly 11 a.m. and time to start the sauce.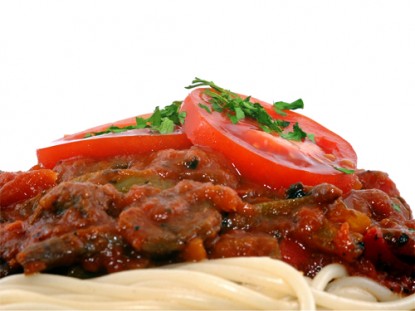 My sisters sautéed the beef and sausage while I blanched and then peeled the tomatoes. As usual, my brothers cheerfully supervised the women until our mother put them to work chopping onions and garlic. My oldest sister, a newlywed with a baby on the way, entertained all of us with her recollections of the family's earliest Thanksgivings. She put on Mama's apron and showed everyone how our mom waddled around the kitchen when she was pregnant with the twin boys. Between my sister's story and the onions, my brothers were laughing and crying at the same time. Daddy just sat at the table grinning so wide I thought his face might split. My other sister added her own version of the tale in which our oldest sister pitched a fit because Mama wouldn't let her wear sandals during the afternoon family football game. Our laughter nearly shook the rafters that day, making this holiday one of the most special any of us had ever experienced.
When we finished prepping the ingredients, Mama gathered us around the stove. My brothers tried to squirm away, but Mama wouldn't hear of it. She insisted that boys should be able to cook for the family just the same as girls and announced it was time to reveal the secrets of the famous family spaghetti sauce. With a special kind of reverence, she listed the main ingredients while my father copied them to paper: meat, tomatoes, onions, garlic, peppers and olive oil.
She told us to cook the sauce on low for at least two hours and then add dried seasonings like salt, pepper, thyme and oregano. Then she took a deep breath and began to reveal the previously guarded secrets that made her sauce so special. Her instructions were clear and surprisingly simple and she demonstrated while she spoke. Along with the dried seasonings, add brown sugar, balsamic vinegar, brewed coffee and a pinch of allspice. Simmer for another hour then add fresh, chopped basil and a few pats of butter; turn the pot off and remove from any heat source. She was careful to caution us about the ratios and explained that a sauce which serves eight requires two tablespoons each of sugar and vinegar.
When she finished, she turned to us with an intensely serious look of pride on her face. For a moment no one said anything and then almost as one the five of us, plus my father, burst into hysterical laughter. Puzzled, Mama stared at us and then my brother gave her a hug and said, "Your spaghetti is awesome, but it's still just a sauce, Mama!" Despite our outburst, each of us recognized how special the moment was and requested copies of the recipe. We spent the rest of the day eating, talking and playing traditional family games while preparing for another feast the next day.
We don't get to see each other very often now as we live in different areas of the country. Our parents are getting old and weak but still manage to surprise us with their energy and sense of humor. When we do get together for holidays or vacation, we always reminisce about that special Thanksgiving when Mama finally taught us how to make plain old spaghetti into something extraordinary. No matter what, we understand we will always have a piece of the family to pass down for generations to come.


See the printable recipe for Mama's Spaghetti Sauce.


You can find OliviaN at Storkie.

Do you have a recipe post or kitchen-related story to share on the Farm Bell blog?
See Farm Bell Blog Submissions for information, the latest blog contributor giveaway, and to submit a post.

Want to subscribe to the Farm Bell blog? Go here.
What can you enter to win this month? Click here.