Once the weather forecast claimed rain for the next 4,356 days (one of the downsides to living in the Pacific NW), I decided it was time to uproot my tomato plants. Unlike much of the USA this year, our summer was cold and all together too short. And my tomato plants suffered. As a matter of fact, I didn't get very many ripe tomatoes at all until September this year!
With a pile of green tomatoes, I wanted to DO something with them. Yes, I know, they'll eventually ripen (and they are). But I'm not so good at waiting. And a person can only eat so many fried green tomatoes. I also sometimes use them (in a pinch) for salsa verde when I'm short on tomatillos, however, this year my tomatillos did me proud (unlike my tomatoes, uh hem!)
The same day I pulled up my plants and collected a large table full of green tomatoes, I came across the book A Householder's Guide to the Universe, by Harriet Fasefest. Inside there was a recipe for Green Tomato Sauce. The timing couldn't have been better!
That afternoon, I chopped up a big pot of green tomatoes and simmered the sauce while I cooked dinner. It's easy to make and delicious. So far I've poured it over rice, used it as a pizza sauce (instead of red sauce) and made a pork and hominy stew with it. All of it tasty.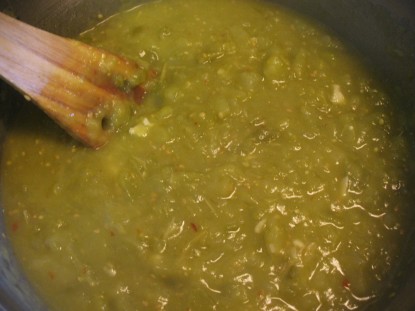 How to make Green Tomato Sauce: Printable
Peel a large bulb of garlic and sauté the cloves in 1/2 cup of olive oil being careful not to burn them.
Add 5 lbs diced green tomatoes (skins on) and mix well with garlic.
Add 1-2 teaspoons crushed red pepper (or more to taste), 2 1/2 cups white wine, and 1/2 cup pickled pepperoncini.
Mix together and cook until reduced to thick sauce. Salt and pepper to taste.
Fasenfest also suggests, as an optional ingredient, to add either bacon or pancetta to the mix. I didn't have any, so I opted to go the vegetarian route.
The best part of all was redeeming my ill thoughts towards my slow growing tomatoes and feeling like I didn't waste all that time and energy after all. In the end, I had delicious, hardy tomato sauce, even if it wasn't the color I was used to! The recipe is going in my favorites file (the kids even ate in on their pizza without complaint) and I'll pull it out every end-of-summer when I've got more green tomatoes than I know what to do with!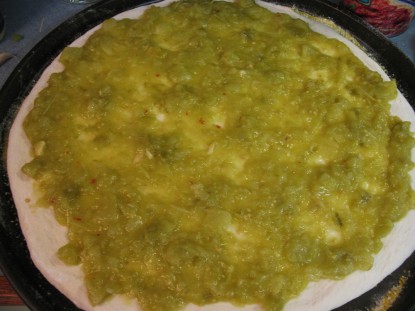 Kerrie blogs at City Girl Farming.

Do you have a recipe post or kitchen-related story to share on the Farm Bell blog?
See Farm Bell Blog Submissions for information, the latest blog contributor giveaway, and to submit a post.

Want to subscribe to the Farm Bell blog? Go here.
What can you enter to win this month? Click here.