Last February I picked up a copy of Best of the Sunset Cookbook, 101 Top Recipes.
As I thumbed through it and saw all the delicious looking dishes, I thought to myself "I could make every recipe in this magazine."
I decided to do just that. I would make the recipe, post a blog entry about it, and review the recipe. I gave myself one year to complete the task. I did the math and realized that I could get it done if I made two recipes a week.
Well, I have fallen behind and now have to make three recipes a week if I want to finish on time. What I have also realized after working on the project–there are some funky recipes in this magazine. I seem to be saving them for a rainy day. My husband probably doesn't realize that a time will come when he finds tofu, gazpacho and octopus on his plate all in the same week! Right now he says it's fun coming to the dinner table and finding something new. Be careful what you wish for, Michael.
Along the way we have found some of the recipes to just be outstanding and I thought I would share two of those with the CITR readers. The combination of the two would make a superb dinner.
The main course is Grandmother's Chicken or Poulet Grand-Mere as the French would say. It is so good and so flavorful. The chicken was cooked to perfection and the vegetables so rustic and hearty. Make this recipe and don't change a thing!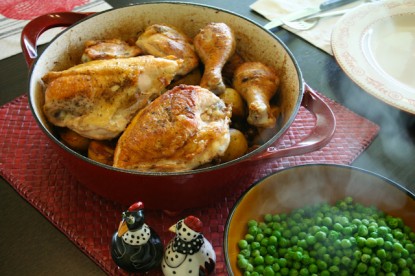 How to make Grandmother's Chicken: Printable
2 tablespoons olive oil
1 chicken (4 to 5 lbs.), cut into 6 pieces (2 bone-in breast halves, 2 bone-in thighs, and 2 bone-in drumsticks)
1 teaspoon salt
1 teaspoon freshly ground black pepper
1 cup frozen pearl onions
6 large cloves garlic, unpeeled
2 sprigs fresh thyme
1 pound baby Yukon Gold potatoes, scrubbed and halved
3 slices thick-cut bacon, sliced crosswise into 1/4-in.-wide pieces
1 pound cremini or button mushrooms, trimmed and cut into quarters
2 cups reduced-sodium chicken broth
Preheat oven to 375°. Heat oil in a heavy-bottomed 4- to 5-qt. pot over medium-high heat. Season chicken pieces with salt and pepper and add skin side down to pot. Cook until skin is crispy and deeply browned, about 12 minutes. Remove chicken from pot and set aside.
Pour off all but 2 tbsp. cooking fat, reduce heat to medium-low, and add onions, garlic, and thyme. Cook, stirring often, for 5 minutes, then add potatoes and bacon. Cook, stirring occasionally, until mixture is well browned, about 8 minutes. Pour off all but a thin layer of fat.
Add mushrooms and chicken stock, bring liquid to a boil, and cook until liquid is reduced by one-quarter. Arrange chicken, skin side up, on top of vegetables.
Transfer pot to oven and bake, uncovered, until chicken is cooked through, about 20 minutes.


If you want the perfect dinner roll to go along with your Poulet Grand-Mere, I wholeheartedly suggest this recipe for Squash Dinner Rolls. Made with pureed winter squash, these rolls are just about the most delightful thing I have ever tasted. Because I can, I used my food processor to puree the butternut squash and my bread machine to make the dough. We also didn't let these cool before eating them as the recipe recommends. Who does that? Nope, you want that butter to melt.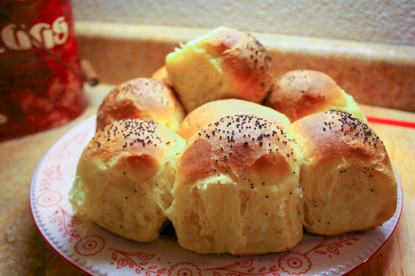 How to make Squash Dinner Rolls: Printable
1 1/2 cups warm milk
2 1/4 teaspoons dry yeast
2 tablespoons sugar
1 tablespoon salt
1 egg, lightly beaten
3/4 cup puréed squash or canned pumpkin
5 tablespoons vegetable shortening
4 to 5 cups all-purpose flour
2 tablespoons butter, melted, plus more for pan
2 teaspoons poppy or sesame seeds
In a large bowl, combine milk with yeast, sugar, and salt. Let stand 5 minutes, then add egg and beat well to combine.
Add squash and shortening; mash with a fork until shortening is in small pieces. Add 1 1/2 cups flour and mix well with a wooden spoon. Gradually mix in more flour by the cupful until dough collects around spoon and pulls away from sides of bowl (you may not need all the flour).
Transfer to a lightly floured surface and knead 2 minutes. Put dough in a greased bowl; cover with a towel. Let rise in a warm place until doubled in size, 1 to 1 1/2 hours.
Preheat oven to 400° and butter a large baking sheet. Punch dough down, turn out onto a lightly floured work surface, and knead until dough is smooth and supple, about 7 minutes. Cut dough into 4 balls; cut each ball into 6 pieces.
Roll each piece into a round and arrange rounds on baking sheet so they barely touch. Brush with melted butter and sprinkle with poppy seeds; cover with plastic wrap and let rise 30 minutes.
Bake until golden brown, about 20 minutes. Let cool, then pull apart to serve.
These are so good you deserve another photo of the whole pan.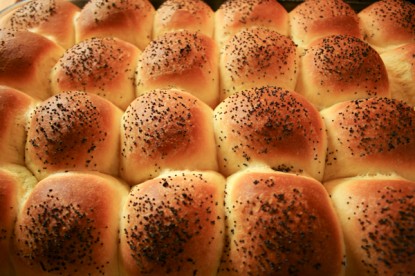 I hope you make these recipes and enjoy them as much as we did. As for me, I am off to make Salt-Crusted Beets with Avocado, Lavender, and Thyme. Lavender, really? Who does that?
Mary blogs at Buck 'N Run Ranch.

Do you have a recipe post or kitchen-related story to share on the Farm Bell blog?
See Farm Bell Blog Submissions for information, the latest blog contributor giveaway, and to submit a post.

Want to subscribe to the Farm Bell blog? Go here.
What can you enter to win this month? Click here.