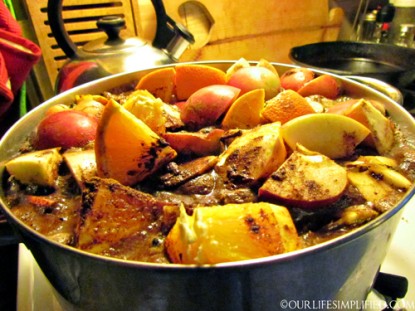 Difficulty: Easy
Servings: 3/4 gallon
Prep Time:
5 min
Cook Time:
3 hours
Ingredients
Apples, unpeeled, roughly chopped (4-5 quarts cut up)
1 small orange, unpeeled, roughly chopped
1 cup brown sugar
4 cinnamon sticks (or 1 Tablespoon ground cinnamon)
24 whole allspice (or 1 whole nutmeg + 1 tablespoon whole cloves or 1 Tablespoon ground allspice)
Directions
Wash and roughly chop apples (I fill my 6-quart pot 3/4 full) and orange. Don't peel, seed or anything. Just cut them up and put them in a large pot! Make sure the pot is big enough for boiling room. I use my stock pot.
Add brown sugar. Add spices. Cover with water.
Bring to a boil, cover and boil for about 1/2 – 3/4 hour until apples are mashable. Mash everything together with the back of a spoon. Cover and simmer for 1-2 more hours.
Strain through cheesecloth or tea towel into a pot.
Squeeze out every last drop when it's cool 🙂 This is like pressing the cider, you will have sediment left in the bottom–shake the jug before using!
Categories: Beverages
Tags: Fall
Submitted by: cindyp on October 14, 2011