I made this a couple months ago and realized I never did a post on my successful experiment!
It's sinful, it's naughty and it's yummy! Chocolate pudding, cream cheese, whipped cream, graham cracker crust…all-in-one! And almost everything is made from scratch…except I did not make the graham crackers. But you can!
In my mind was a No-Bake Cheesecake…but chocolate! And all in one bowl. I wanted to eat it out of the bowl, not off of a plate.
I apologize for the pictures in advance–I must have had some other setting on the camera and did not know until after the last morsel was licked clean.
How to make Chocolate Cheesecake Mousse:
First, make the graham cracker crust so it has time to cool down. Combine 1 1/2 cups finely ground graham cracker crumbs, 1/4 cup sugar (I like to use powdered sugar), and 5 tablespoons butter, melted. Leave it in the bowl and set aside to cool.
For the chocolaty goodness, I started with Instant Vanilla Pudding Mix with some variations. Combine 1/3 cup instant dry milk, 3/4 cup sugar, 1/3 cup instant clear jel, and 1/2 cup cocoa. I love Dutch cocoa, so much more intense! Also, a tip to help instant clear jel work properly is to mix it in with all dry ingredients before adding liquid.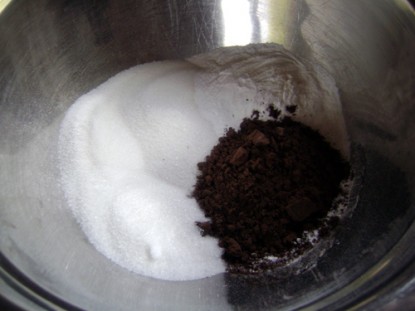 This is where another variation comes in.
Instead of mixing with milk, then adding in whipped cream at a later step, get right to the whipped cream now! Add 2 cups heavy whipping cream.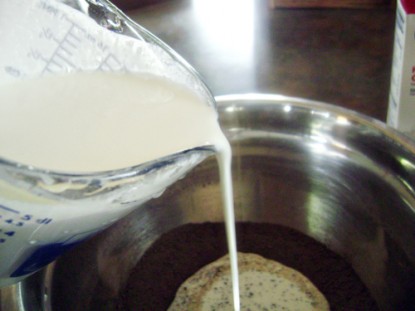 Beat on high for at least two minutes. You'll see it whipping up just like making whipped cream in a separate bowl. If it gets too thick, just add in some cold milk (start with 1/4 cup).

Oh yes. We're creating a rich, chocolaty mousse right now. You could stop right here and just grab the spoon. Or persevere and keep going to even more yumminess.

In a separate bowl, beat together 8 ounces of cream cheese (I use lactic cheese that Suzanne posted as my cream cheese) and 1/3 cup powdered sugar.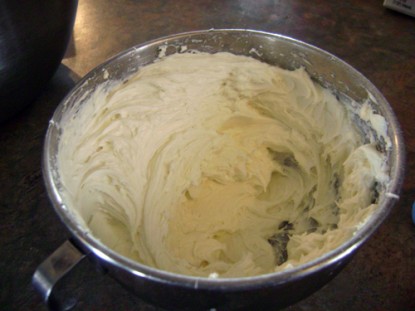 Add this to the chocolate mixture. Beat together well.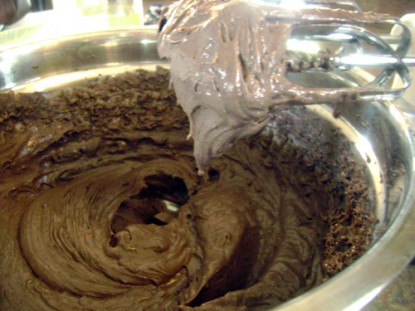 See how thick this is?!? It's not going to drip…making it easier to lick the beaters 😉

Normally, you would spread this out into a graham cracker lined pan. There is no smooshing graham crackers into a pan in this recipe. Just dump the prepared crumbs into the chocolate!


Fold the crumbs into the chocolate mixture.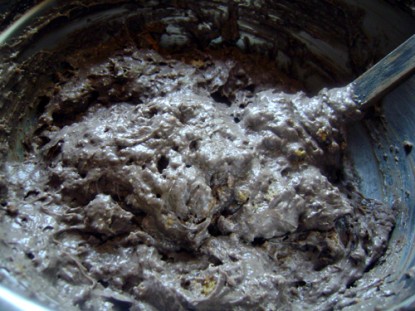 NOW! Grab your spoon! Before anyone sees you. Or. Be polite and fill some cups for others.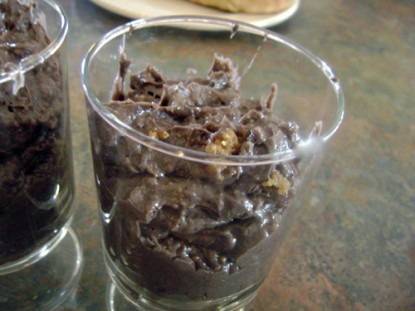 Then put one of those cups into the freezer. Frozen Chocolate Cheesecake Mousse!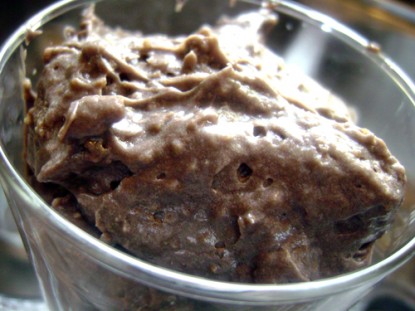 Enjoy the fat grams! Please. For me.


Get the handy print page and save this to your recipe box here:
Chocolate Cheesecake Mousse.
Each of the individual recipes have been linked in the post.
Cindy blogs at Chippewa Creek ~ Our Life Simplified.

Do you have a recipe post or kitchen-related story to share on the Farm Bell blog?
See Farm Bell Blog Submissions for information, the latest blog contributor giveaway, and to submit a post.

Want to subscribe to the Farm Bell blog? Go here.
Would you like a chance to win a Euro Cuisine yogurt maker?
Click here.