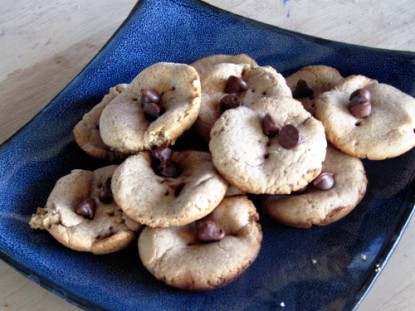 Difficulty: Easy
Cook Time:
10 min
Ingredients
3 cups whole wheat flour*
1/2 teaspoon salt
1/2 teaspoon baking powder
2 tablespoons sugar
2 teaspoons cinnamon
6 tablespoons butter
1/2 cup honey
Directions
Sift together flour, salt, baking powder, sugar, and cinnamon into a bowl.
Melt together the butter and honey.
Pour into dry ingredients; mix with a fork, then push the dough together with your hands. Don't knead or over mix.
Place the dough on a well-floured surface, and roll it with a well-floured rolling pin to 1/8 inch thick.
Cut rectangles (approximately 1 1/4 x 3 inches) with a knife, and prick them with a fork.
Place on a lightly-greased baking tray. Bake for just 10 minutes in a 375 degrees F oven**. Cool on a rack.
*If too wet, add a bit of flour until it looks right.
**For softer crackers, cook at 350-degrees for 10 minutes.

Categories: Appetizers & Snacks, Kid-Friendly, Other Breads
Submitted by: laree on November 14, 2010