Tortillas (particularly flour ones) are a staple at our house and not just because we eat a lot of Mexican food. They are inexpensive to buy and easy to make. We eat them for breakfast, lunch, dinner, snacks and even dessert! The possibilities are limitless when you realize how versatile they are–and there need not be a jalapeno or frijole in sight.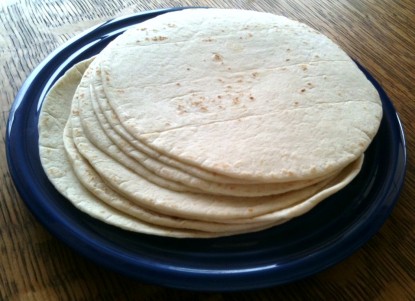 Here are five of our favorite non-Mexican-food ways to enjoy our flour tortillas:
1. Breakfast burritos. I make these at least once a week (mostly for supper) since we have chickens and always have an abundance of eggs. They usually consist of scrambled eggs, fried potatoes, and either bacon or sausage (from our pigs). Sometimes we throw in cheese or skip the meat. Really you can put whatever you like in them. Whatever you like in your scrambled eggs would probably be delicious wrapped in a warm tortilla and you don't even need a fork or a plate!
2. Crispy dogs. I have had more of these than I should admit. They start with a large flour tortilla. Lay your favorite hot dog in the center, spoon over some chili and sprinkle on some shredded cheddar cheese. Add a few chopped onions if you like. Then wrap the whole thing up tightly, closing the ends, and secure the seam with a toothpick. Finally, (get this!) you deep fry it. You can thank me later.
3. Leftovers. What's in your fridge? Chicken salad? Smoked sausage? Roasted veggies? Flour tortillas will hold just about anything and can make for a quick, portable lunch.
4. Fried with dip. Fried flour tortilla chips are wonderful in cheesy dips like spinach or artichoke and are easy to make at a moment's notice. Just cut into wedges and fry them in about an inch of hot oil in an iron skillet.
5. Fried and sprinkled with cinnamon and sugar. Need I say more? They can be drizzled with honey or you can spoon some warm preserves over the top. YUM.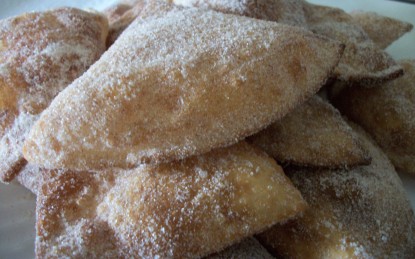 Kelly in TX blogs at Sowell Honey Farm.

Do you have a recipe post or kitchen-related story to share on the Farm Bell blog?
Go here to read information and submit a post to the Farm Bell blog.

Want to subscribe to the Farm Bell blog? Go here.