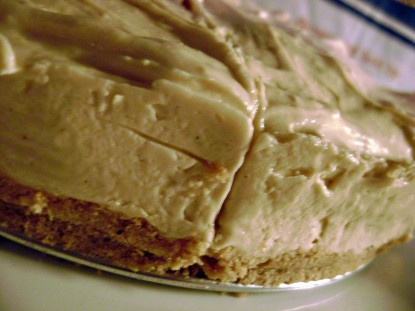 Difficulty: Easy
Servings: 8 - 10" cake
Prep Time:
10 min
Ingredients
Crust:
1 1/2 cups graham cracker crumbs
1/3 cup packed brown sugar
1/2 tsp pumpkin pie spice
Filling:
2 (8 oz) packages cream cheese
1/3 cup powdered sugar
1 pint heavy whipping cream
1 pint sour cream
1 cup cold milk
2 (3 1/2 oz) instant pudding, flavor of your choice OR 2 Homemade Vanilla Pudding Mix recipes**
Homemade Vanilla Pudding Mix:
1/3 cup instant dry milk
1/2 cup sugar
1/3 cup Instant Clear Jel
1/4 tsp salt
For Thanksgiving, I added 1 tsp pumpkin pie spice to the filling.
Directions
Crust:
Mix together graham cracker crumbs, brown sugar and pumpkin pie spice. Press into bottom of an 8 or 10 inch spring-form pan. Chill until firm.
Filling:
Beat together cream cheese and powdered sugar. Add remaining ingredients and beat until stiff. Pour into chilled crust. Chill several hours or overnight.
Categories: Cheesecakes, Holiday
Tags: no-bake
Submitted by: cindyp on November 29, 2010