I LOVE pickles! I love pickles so much that I have been working on pickling recipes for years in pursuit of the best homemade pickles I can make myself. If you aren't a canner but still lust after great pickles you can make yourself–here is one pickle with two versions that's the pickle for you!
First, get yourself some nice cucumbers–small is good but these beauties were great and were 8+" long or so. I bought them at a farmer's market.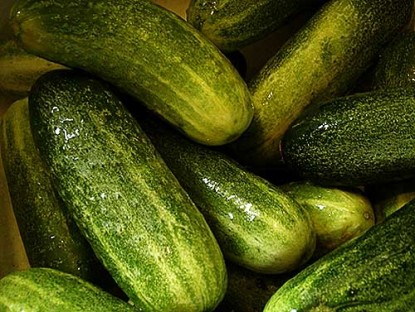 Scrub the cukes well and slice. I like spears for this recipe.
Pack the spears into a jar. I use ½ gallon pickle jars or canning jars.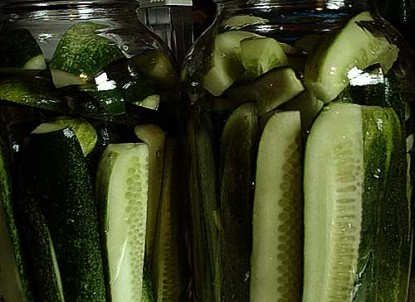 Add spices to the jar and the Pickle Crisp (optional but soooo worth using) then pour in the cooled prepared brine. Refrigerate as long as you can stand it–a week is about perfect. Give the jar a shake now and then. And next thing you know ………
Crunch, crunch, crunch! Betcha can't eat just one!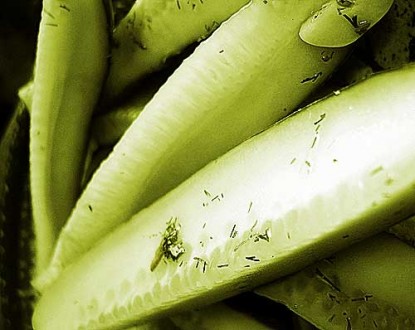 These will keep in the refrigerator for several months. They lose a bit of crunch after that but are still delicious.
My personal obsession–uh, I mean favorite–is the 'Hickory House' version that is sweet and spicy. I came up with those after tasting 'secret recipe' pickles at a local restaurant. I had to have more so I figured out how to make my own.
How to make Claussen Style Refrigerator Dill Pickles:
pickling cucumbers or small slicing cucumbers
fresh dill OR dried dill seed and dill weed
kosher salt
vinegar
fresh garlic
mustard seed
peppercorns
powdered allspice
hot pepper flakes
carrots OR sugar (Splenda works too!)
Pickle Crisp
Select fresh, evenly colored cucumbers. Slice if desired. Wash and pack in sterilized quart jars. Place several sprays of dill on top of cucumbers (I used 1 Tbsp each dill weed and dill seed per 1/2 gallon jar).
To each quart, add 1 tsp minced garlic, 1/4 tsp mustard seed, 6 whole peppercorns, 1/8 tsp powdered allspice, 1/4 tsp hot pepper flakes and either one whole sliced carrot or 1/4 tsp sugar and Pickle Crisp as per the package instructions (I doubled all of these since I used 1/2 gallon jars).
Heat 1 quart distilled water, 1 cup vinegar and 2 Tbsp fine kosher or canning salt to boiling – (this made plenty of brine for a 1/2 gallon jar).
Cool brine, pour over cucumbers to within 1/4 inch of top. Seal. Refrigerate. This liquid may become cloudy in a few days but will soon clear. The pickles will be firm, crisp and evenly colored.
Now, for the 'Hickory House' version (sweet and spicy!):
Use the above recipe, but:
Increase sugar to 1 cup and add to the brine.
Increase garlic in each quart to 2 large cloves each, chopped.
Increase pepper flakes to 1 teaspoon per quart.
ALSO, try the Refrigerator Pickle recipe posted here in Farm Bell for really quick sweet refrigerator pickles with that Bread and Butter pickle taste!
Get a printable version of these recipes and save them to your recipe box:
Refrigerator Pickles
Claussen-Style Refrigerator Pickles
You can also find Dede at Yahoo's Canning2.

Interested in contributing a guest post to the Farm Bell blog? Read information here for Farm Bell blog submissions.

Want to subscribe to the Farm Bell blog? Go here.