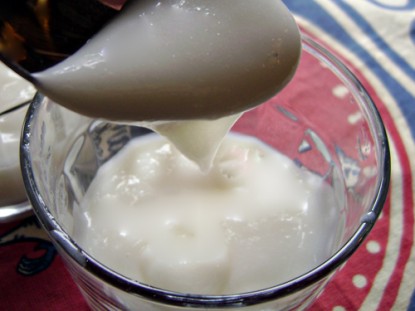 You can substitute with this for any recipe calling for a 3.5 oz box of instant pudding.
You can make any flavor you want! If you're making chocolate, add extra sugar with the cocoa. How much chocolate and sugar you add is up to you, experiment. I use 1/2 cup cocoa and up the sugar to 3/4 cup. I also have to add an extra 1/4 cup of milk or so because of the extra dry ingredients.
Use any liquid you'd like–juices, lemonade, kool-aid. I don't add any sugar if I'm using these.
Difficulty: Easy
Servings: 1 3.5 oz box pudding
Prep Time:
5 min
Ingredients
1/3 cup instant dry milk*
2 cups cold milk*
1/2 cup sugar
1/3 cup Instant Clear Jel
1/4 tsp salt, optional
*For fat-free, you can up instant milk to 1 cup and use water in place of cold milk (or just use fat-free milk).
Directions
Combine dry ingredients.
Add 2 cups cold milk and vanilla; mix well.
A secret of using instant clear jel is to mix it with the dry ingredients first before adding liquid; it's less likely to clump. You can just shake it, or use a mixer, blender, stick blender.
Categories: Fat-Free, Ingredients & Mixes, Puddings & Custards, Substitutions
Submitted by: cindyp on November 29, 2010