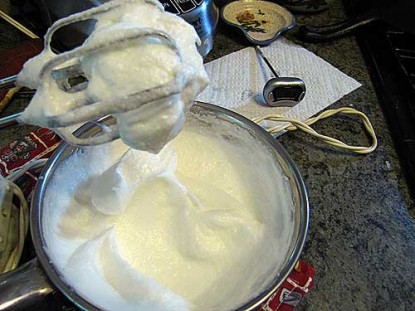 Difficulty: Easy
Servings: varies
Prep Time:
about 15 at 165, 30 minutes or longer at 145
Ingredients
uncooked eggs and sugar
Directions
For recipes using egg whites and/or yolks that can be combined in a liquid in the recipe to pasteurize, see How to Pasteurize Eggs 1.
To pasteurize eggs in recipes that call for raw beaten egg whites folded into a mixture that will not be further cooked (such as frostings or other desserts), use this method: Cook the whites with sugar, beating over hot water or on low heat until soft peaks form. (Without sugar, the whites will coagulate too fast. The recommendation is two tablespoons sugar per egg white.) Check the temperature as you beat the whites–they must either slow-pasteurize at 145 degrees for 30 minutes (a bit long for beating, but humidity is not a meringue's best friend, so the double-boiler method does take some time) or fast-pasteurize at 165 for 30 seconds.
Categories: Eggs, Tips & Tricks
Submitted by: suzanne-mcminn on July 24, 2011