I've been mixing and freezing cookies for a few weeks now, getting ready for my bake-a-thon.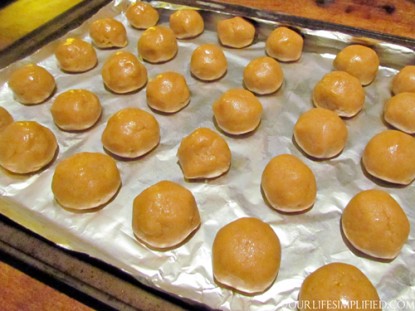 And what do you suppose happens? The oven is on the fritz. On the fritz!! It started acting up half way through roasting the Thanksgiving turkey and finally gave out that weekend (with a little persuasion from a man in the family).
So!! Not to be deterred or to get myself all in a stress attack, my family is receiving frozen cookie dough. Yes, frozen cookie dough. They've never received frozen cookie dough before, it will be something new. And maybe a new tradition will be started. From Cindy's Freezer to Your Kitchen.
They can bake as many or as few cookies as they'd like at a time. No need for them to feel overloaded with cookies and sweets in one week. (See, it's all about them, not my oven at all!)
They will think of me (and love me) later in January when they have a hankerin' for some homemade, warm-from-the-oven cookies. No work involved on their part, just putting frozen cookie balls on a cookie sheet and baking for 8-10 minutes. I'll be the little man in the big yellow truck this year.
My packaging will be easy (remember, they have to remain frozen). So that means a freezer container or bag.
In Photoshop, I created a very simple tag to print out onto 2×4 labels (found in the office supply section of your favorite store!) in Word or Publisher.
You can borrow this! Click on the photo to open in original size, right click and save to your computer. Insert the picture into the label.
Or they can simply be printed out onto card stock and taped to the container or bag.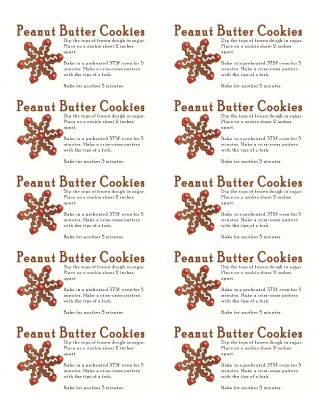 You can borrow this! Click on the photo to open in pdf format.
My family will be happy anyway they can get some homemade cookies–or halfways there! I hope the rest of you have a wonderful time baking!!


We'll be doing a Gifts from the Kitchen roundup post soon, make sure all of your favorite gift giving recipes are submitted (with a photo if you can)!
Cindy blogs at Our Life Simplified.

Do you have a recipe post or kitchen-related story to share on the Farm Bell blog?
See Farm Bell Blog Submissions for information, the latest blog contributor giveaway, and to submit a post.
Want to subscribe to the Farm Bell blog? Go here.
What can you enter to win this month? Click here.