In yoga, it is often said that to maximize the benefits of practice, we should endeavor to "work toward our weaknesses," which is why I am determined to become a better baker. Through practice, I feel certain, I will somehow gain some spiritual insight into why oh why I have so little patience when it comes to following directions!
In the front garden, we leave a sizable patch of our hill grow wild, providing both a natural screen from passing cars and an ever-changing display of wildflowers with delightful names like Purple Aster, Goldenrod, and Touch-Me-Not. Right now, the last gasp of Goldenrod is holding its own against the cooling temperatures, and the bees have revved up their efforts to consume as much pollen as possible before the flowers are completely gone.
In homage to these beautiful, industrious insects, I was inspired to try and bake a Rustic French Honey Cake last weekend, which I'd seen on the fabulous food site Food52.com. Described as "only slightly sweet," this cake recipe sounded right up my alley, as neither B nor I are huge sweet eaters—though we occasionally like a little bit of something to snack on with our tea.
The result of my labor? Well, as you can see from the photograph, the cake looked absolutely delectable…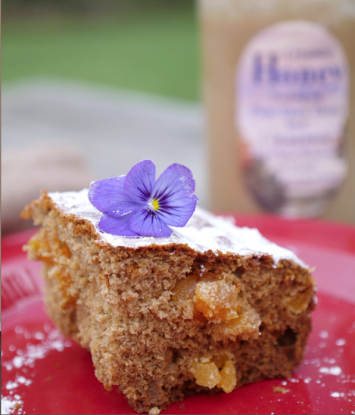 But sadly, it failed the taste test. Dry and even less sweet than we expected, the rye flower gave it a strange, savory tang. And as far as the arid texture, I feel I must have done something wrong. Was it the fact that I substituted dried apricots for prunes? Or maybe I left the cake linger for too long in our new (rather unpredictable) oven? We'll never know, I suppose, unless I try, try again.
Full disclosure: My salt was not kosher and instead of unbleached cake flour I simply used plain old white. Is it me, or do these detailed ingredients annoy you, too?!
The lesson: Pretty isn't everything, especially when it comes to baked goods.
The bright side: Caloric intake was kept to a minimum that day, and no waistlines were harmed in the process.
For all you super-bakers out there (mom, are you reading this?), here's the recipe I thought I followed…um…pretty much to the letter. Maybe you have some ideas about how it might be improved?
RUSTIC FRENCH HONEY CAKE: Printable
Makes nine pieces
1 cup rye flour
1 cup unbleached cake flour
2 teaspoons baking soda
1 teaspoon ground cinnamon
1/2 teaspoon kosher salt
1/4 teaspoon ground nutmeg
1/8 teaspoon ground cloves
1/2 cup honey
2 large eggs
1/4 cup unsalted butter, melted
1/2 cup whole milk
1 cup prunes, chopped

Preheat the oven to 350F. Grease an 8 X 8 inch square cake pan. A parchment square in the bottom might be a good idea if you think the cake will stick to your pan. Grease the parchment, too.
Sift the flours into a mixing bowl. Any large pieces of bran left in the strainer can be discarded. Add the baking soda, cinnamon, nutmeg, salt and cloves.
Add the eggs, honey, milk, and butter. Stir with a wooden spoon to combine. Add the prunes and stir to distribute them.
Pour the batter into the pan and bake for 35 minutes or until a cake tester poked into the middle of the cake comes out clean.
Remove it from the oven and let it cool. Dust with powdered sugar if desired.


Smallpeace blogs at Smallpeace.

Do you have a recipe post or kitchen-related story to share on the Farm Bell blog?
See Farm Bell Blog Submissions for information, the latest blog contributor giveaway, and to submit a post.

Want to subscribe to the Farm Bell blog? Go here.
What can you enter to win this month? Click here.