The first cool day of fall in Texas (meaning that the temperature drops below 70) is invariably called "chili weather". Now, I know that chili can be a hotly debated topic but the chili I'm talking about is real, home cooked, made-to-feed-a-hungry-family chili. Those much-celebrated chili cook-offs that you see on T.V. make chili seem intimidating to regular cooks like you and me but chili is really very simple.
It doesn't require any exotic or secret ingredients and is very economical, which brings us to one of the most debated chili issues: beans. Like other stews, chili was created to feed a crowd and meat is expensive. Whether you are the "cookie" on a line camp cooking for a dozen hungry cowboys or you are a mom feeding a houseful of growing kids, you need to add beans to make your chili meat go further. Cowboys on cattle drives always carried a supply of beans because, unlike beef, they are cheap, lightweight and don't spoil. Authentic chili has beans. There. I said it.
Now that you know you need beans, you will also need beef, tomatoes, onions and chili powder (either store-bought or made from dried chilies.) Those are the basics and you can make very good chili with just those ingredients but most chili cooks add a few more. Here's how I make mine during the week and it's perfect for those fall and winter days. (And for any chili aficionados that say that this can't be real Texas chili because it has beans: I am a sixth-generation Texan and I make it and like it and so does every other Texan that has tried it. Now that's real Texas chili!)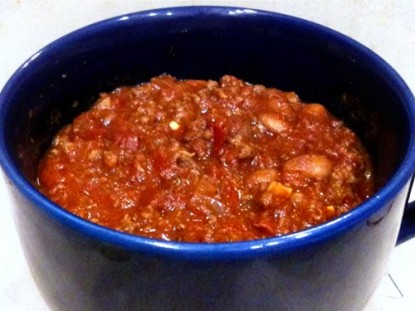 This recipe feeds four but can be easily doubled or even tripled. It also freezes and reheats very well.
1 pound ground chuck (you can use chuck cubes if you have time to let it simmer all day)
1 or 2 cans cooked pinto beans (I use Ranch Style)
1 finely chopped onion
4-5 cloves finely chopped garlic
1 (28 oz.) can crushed tomatoes
1 Tablespoon taco seasoning (optional but it does give an extra layer of flavor. I use Fiesta – make sure whatever kind you use is salt-free)
2-4 Tablespoon chili powder (I use Gebhardt)
1 teaspoon ground cumin
Salt
Finely chopped jalapeno or serrano peppers (optional).
Brown beef and add taco seasoning before it is completely cooked. Add onions and cook until they start to soften. Add tomatoes, garlic and beans. When mixture is bubbling-hot, add cumin and chili powder. Start with 2 tablespoons of the chili powder, stir well and taste. Keep adding until it is as hot as you like it. If you like more heat, add chopped peppers. Add salt at the very end, only a pinch at a time and taste after each pinch. Be careful not to add too much salt or the chili will taste sweet.
Simmer uncovered for about 10-15 minutes if using ground beef. If using chuck cubes, cover and let chili simmer for at least 6 hours.
Toppings are strictly optional but chopped onions and/or jalapenos are nice and so is a little shredded cheddar. Serve with corn chips, saltine crackers, tortillas or cornbread.


Get the handy print page and save this to your recipe box here:
Texas Chili.

You can find Kelly at Sowell Farm.


Do you have a recipe post or kitchen-related story to share on the Farm Bell blog?
Read information here for Farm Bell blog submissions.

Want to subscribe to the Farm Bell blog? Go here.