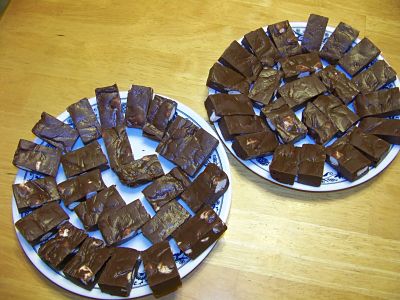 Difficulty: Easy
Servings: makes 2 lb., about 40-45 sm. pieces
Prep Time:
10 min. or so
Cook Time:
about 2 min.
Ingredients
1 12-oz bag semisweet choc. bits (2 c)
1 c + 2 T butterscotch bits
1 can sweetened condensed milk (14 oz)
1 teas vanilla
1 c chopped walnuts (optional)
1 c mini marshmallows
Directions
Grease 9×9" square or round pan. Put plastic wrap on inside.(This makes it easier to remove)
Heat chocolate, butterscotch, and condensed milk in microwave for 1 minute on High. Stir. Cook 30 seconds. Stir. Cook 15 seconds if needed. Immediately stir in vanilla and nuts, marshmallows, etc.
Spoon quickly into pan and smooth out. Chill covered in refrigerator. Slice very thin when serving – it's rich.
Categories: Candy, Gift Basket Goodies, Special Occasions
Tags: Christmas Cookie, microwave
Submitted by: brookdale on December 6, 2011