I remember way back when–in corporate world days–my cookie dough came off a yellow truck that would stop curbside every Monday night. The friendly man would take my order and come back with bags and boxes that were promptly put into the freezer. Sooo easy. When I wanted to make "homemade" cookies, I would reach into the freezer and come out with a cookie sheet full of cookies. Ten minutes later there was fresh, hot cookies ready to be eaten.
Remember the day…
Today, my cookies are truly homemade…right from scratch. But they still come out of the freezer. I mix the dough and am my own little man in the yellow truck.
I started my Christmas cookie baking the first weekend of October. Each weekend from then until the end of November, I'm mixing up a batch of cookies and freezing. When the busy month of December arrives, my baking day will truly be that–baking. Only baking.
If you want some cookies now, go ahead and make two recipes worth–bake one, freeze one. Or only bake 1/2 of the recipe now and freeze the other half.
I started with my favorite Peanut Butter Cookie recipe…from highschool home ec class.
This one didn't last until Christmas–I had company this last weekend and pulled a pan of cookies out of the freezer. How convenient!
How to make Peanut Butter Cookies to Freeze: Printable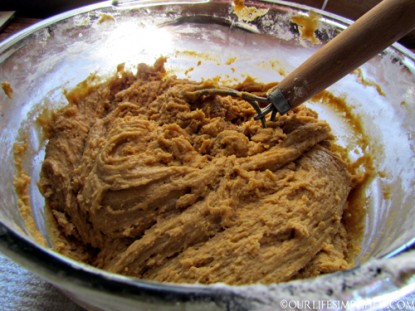 Cream 1 cup butter, margarine, or butter flavor shortening (I've used them all, they all work), 1 cup peanut butter (I've used both crunchy and creamy), 1 cup sugar, and 1 cup brown sugar together.
Add 3 eggs one a time, beating well after each one.
Add 1 teaspoon vanilla.
Combine 3 cups flour, 2 teaspoons baking soda, and 1/4 teaspoon salt. Add to creamed mixture and mix well.
When my kitchen is hot, I put the bowl of cookie dough into the fridge for 15 or 20 minutes to chill the dough to make it easier to roll into a ball.
To Bake Now:
Roll dough into a 1 inch ball, roll in sugar (or some vanilla sugar!) and place on ungreased sheet 2 inches apart. Make a criss-cross pattern with the tips of a fork.
Bake in preheated 375F oven for 7-8 minutes.
Tip: To have soft and chewy cookies, I take the cookies out of the oven when the bottoms are the perfect golden brown.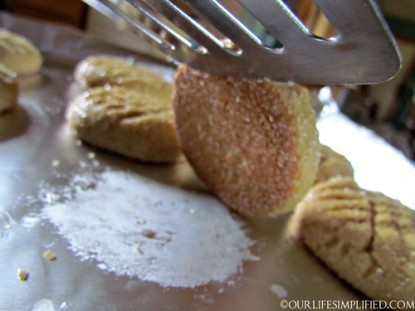 I leave them on the pan for another 5 minutes. Then place on a cooling rack.


To Freeze for Later:
Roll dough into a 1 inch ball. Place on cookie sheet.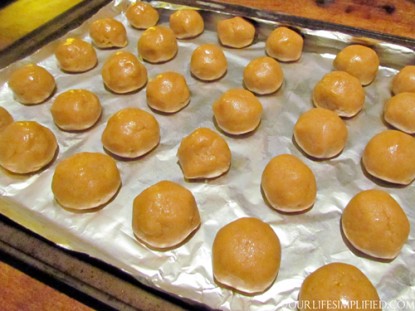 Put cookie sheet into the freezer until the balls are solid (I leave it for several hours).
Place the cookie dough balls in freezer bags, mark, and put back in the freezer until you are ready for them!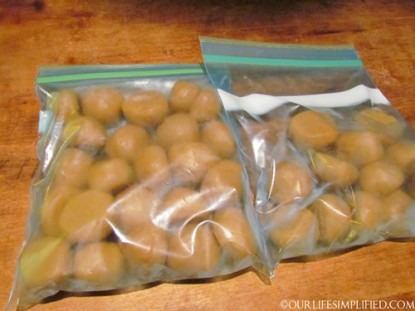 To Bake Frozen Dough:
Dip the tops of frozen dough in sugar. Place on a cookie sheet 2 inches apart.
Bake in a preheated 375F oven for 5 minutes. Make a criss-cross pattern with the tips of a fork.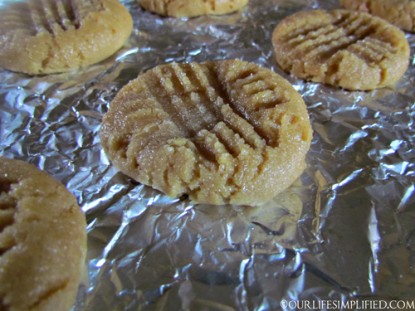 Bake for another 5 minutes.
You could also make drop cookies instead of rolling into balls before freezing.
This week I have to make another batch of freezer cookies…to make up for this one!


Cindy blogs at Our Life Simplified.

Do you have a recipe post or kitchen-related story to share on the Farm Bell blog?
See Farm Bell Blog Submissions for information, the latest blog contributor giveaway, and to submit a post.

Want to subscribe to the Farm Bell blog? Go here.
What can you enter to win this month? Click here.