We're supposed to have a slight cool-down this week (please?!), but it's been hot. Really hot. On the same Today show segment where I discovered Bacon Burger Dogs, I saw a cute presentation idea for summertime parties–popsicles in wine glasses. So very simple. So very cute.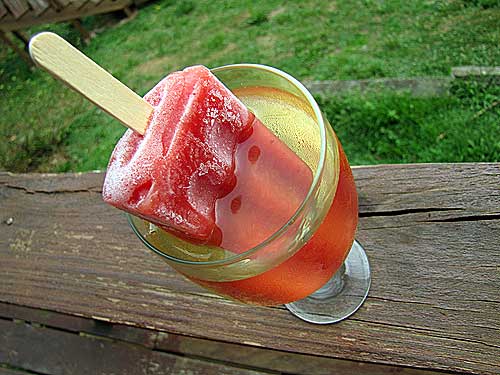 Can't think of a single negative thing to say about this idea! In fact, it's downright positive.
A state road employee told me this weekend that every day, they give them two gallons of water. (TWO GALLONS.) That is their daily ration of hydration. They can either drink it straight or make it into Gatorade. When he gets home, he said, he has a beer. But during the day, hydration is crucial in this heat.
A popsicle with wine is end of the day time here.
We lost power again and are back on generator power, but– I'm back! I apologize for Farm Bell Recipes being "dark" for so long. Please remember that I need your posts–I love to hear voices and your stories. (See how to contribute and what you may win here.)
I'll leave the light on for ya.
You know, generator-powered…….